Sandra Oh and Andy Samberg named co-hosts of 76th annual Golden Globe® Awards
Biggest Stars from Film and TV Gather for "Hollywood's Party of the Year®" at The Beverly Hilton in Event-Filled Three-Hour Live Telecast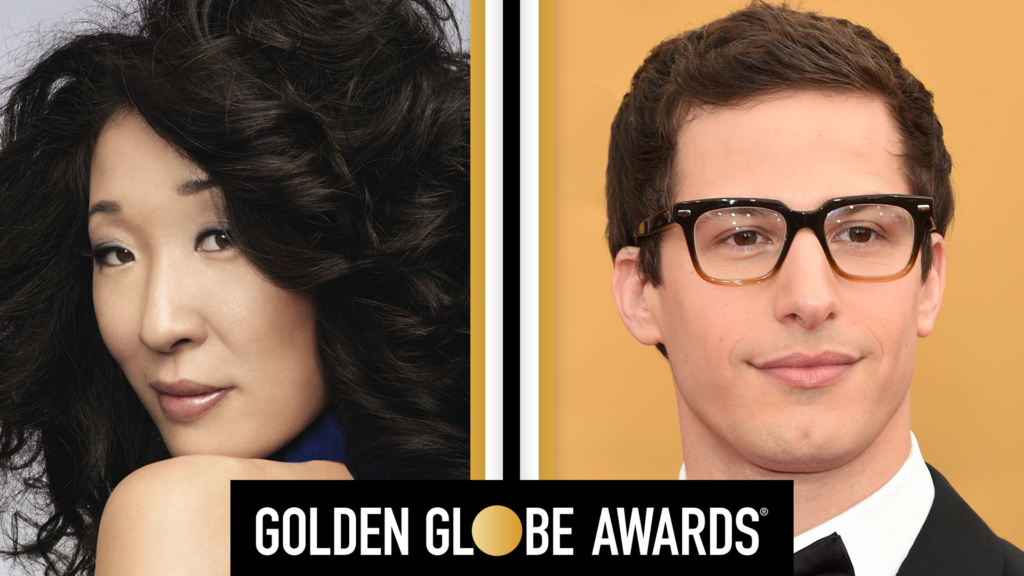 UNIVERSAL CITY, Calif. – Sandra Oh, star of the critically acclaimed BBC America drama series "Killing Eve," and Andy Samberg, star of NBC's Golden Globe-winning comedy "Brooklyn Nine-Nine," will co-host the 76th Annual Golden Globe Awards.
The three-hour telecast will air live on NBC coast to coast Sunday, January 6 at 8 p.m. ET/5 p.m. PT from The Beverly Hilton.
The Golden Globes serve as the official kickoff to the 2019 awards season. Winners in 25 categories — 14 in film and 11 in television — are voted on by the Hollywood Foreign Press Association (HFPA).
"Sandra and Andy are the perfect choices to host this world-class event," said Paul Telegdy and George Cheeks, Co-Chairmen, NBC Entertainment. "They bring wit, charm and style to a room filled with the very best of film and television. It's sure to be another unforgettable fun-filled night."
"We're excited to welcome Sandra Oh and Andy Samberg as co-hosts of Hollywood's Party of the Year," said HFPA President Meher Tatna. "Both Golden Globe Award recipients have continually showcased their talents in film and television, and we can't wait see what their undeniable chemistry will bring to the Golden Globes stage."
"We are thrilled to have Sandra and Andy co-hosting the Golden Globes," said Mike Mahan, Executive Producer and CEO, dick clark productions. "This innovative pairing sets the perfect tone for the most entertaining awards celebration of the year."
Oh currently serves as co-executive producer and earned an Emmy Award nomination for Lead Actress in a Drama for BBC America's "Killing Eve" as Eve Polastri, an MI5 officer who hunts down and becomes entangled with a cold-blooded female assassin. Previously, Oh starred as Dr. Cristina Yang on ABC's "Grey's Anatomy," for which she won a 2006 Golden Globe for Best Performance by an Actress in a Supporting Role in a Series, Limited Series or Motion Picture Made for Television, a Screen Actors Guild Award for Female Actor in a Drama Series and five Emmy nominations for Supporting Actress in a Drama. Oh's film credits include "Sideways," "Under the Tuscan Sun," "Catfight" and "Meditation Park," and she produced the animated film "Window Horses: The Poetic Persian Epiphany of Rosie Ming" as well as voicing the title character.
In 2014, Samberg was a two-time Golden Globe winner for "Brooklyn Nine-Nine," winning Best Performance by an Actor in a Television Series – Musical or Comedy and as a producer on the show for Best Television Series – Musical or Comedy. Prior to that, Samberg was a cast member on "Saturday Night Live" from 2005-12. His work on NBC's iconic late night franchise earned him an Emmy Award and six additional Emmy nominations for his work with The Lonely Island and their digital shorts. The Lonely Island has also been nominated for three Grammys. In 2016, Samberg hosted the 67th annual Primetime Emmy® Awards and in 2013, hosted the Film Independent Spirit Awards.
The new season of "Brooklyn Nine-Nine" begins Thursday, Jan. 10 at 9 p.m. on NBC.
The Golden Globe Awards, often referred to as "Hollywood's Party of the Year," is one of the biggest nights on the calendar for live viewing. It's also one of the few awards shows that combine the honorees of both film and television.
The 2018 Golden Globe Awards telecast averaged a 5.0 rating in adults 18-49 and 19 million viewers, according to Nielsen Media Research, putting it ahead of every show on television from the previous 10 months in total viewers, since the prior year's Academy Awards. The Golden Globes led NBC to the nightlong win in total viewers despite NFL playoff competition.
Produced by dick clark productions in association with the HFPA, the Golden Globe Awards are viewed in more than 210 territories worldwide.
Meher Tatna is President of the Hollywood Foreign Press Association. Allen Shapiro, Executive Chairman of dick clark productions, Mike Mahan, CEO of dick clark productions and Barry Adelman, Executive VP of Television at dick clark productions, will serve as executive producers.
About the Hollywood Foreign Press Association
The Hollywood Foreign Press Association (HFPA) was founded in 1943 as the Hollywood Foreign Correspondents Association (HFCA) by a group of entertainment journalists representing world media in Hollywood, who realized the need to unite and organize to gain the recognition and access to studios and talent accorded to the domestic press. All qualified journalists were accepted, with the bold goal of "Unity Without Discrimination of Religion or Race." A year later, the HFCA created the Golden Globe Awards which, to this day, the entire membership selects, votes on and awards every year for outstanding achievements in motion pictures and television. This year marked the 75th anniversary of the Golden Globe Awards. Members of the HFPA represent 56 countries with a combined readership of 250 million in some of the world's most respected publications. Each year, the organization holds the third most watched awards show on television, the Golden Globe® Awards, which has enabled the organization to donate more than $33 million to 80 entertainment-related charities, scholarship programs and humanitarian efforts over the last 25 years. For more information, please visit www.GoldenGlobes.com and follow us on Twitter (@GoldenGlobes), Instagram (@GoldenGlobes), and Facebook (www.facebook.com/GoldenGlobes).
ABOUT DICK CLARK PRODUCTIONS
dick clark productions (dcp) is the world's largest producer and proprietor of televised live event entertainment programming with the "Academy of Country Music Awards," "American Music Awards," "Billboard Music Awards," "Golden Globe Awards," "Dick Clark's New Year's Rockin' Eve with Ryan Seacrest" and the "Streamy Awards." Weekly television programming includes "So You Think You Can Dance" from 19 Entertainment and dcp. dcp also owns one of the world's most unique and extensive entertainment archive libraries with over 60 years of award-winning shows, historic programs, specials, performances and legendary programming. For additional information, visit www.dickclark.com.