Kentucky Habitat for Humanity receives $951,000 to help rebuild in Dawson Springs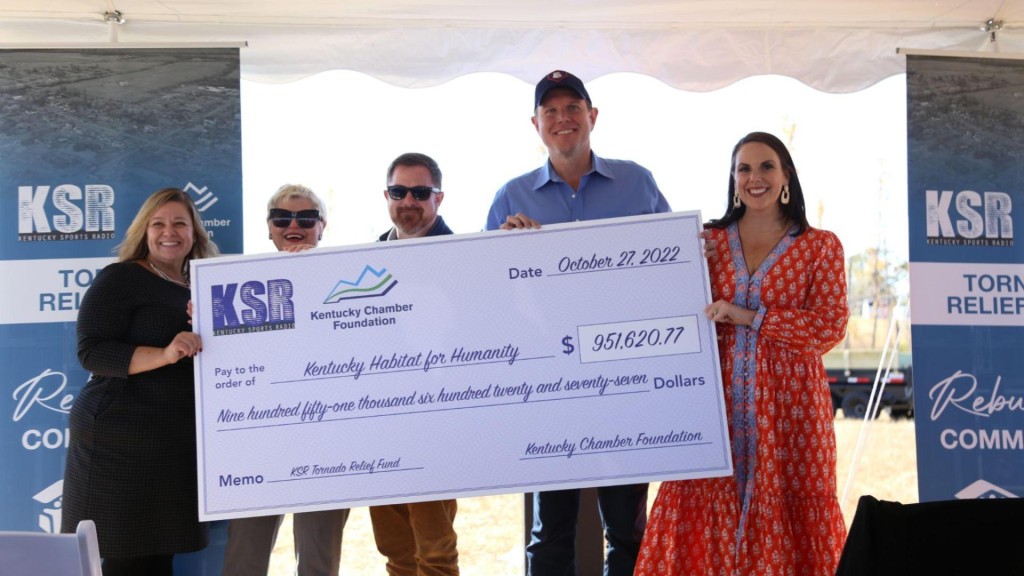 DAWSON SPRINGS, Ky. – Kentucky Sports Radio and Kentucky Chamber Foundation presented a large donation Thursday to Kentucky Habitat for Humanity.
Kentucky Habitat for Humanity plans to use the $951,000 tornado relief donation at a build site for 30 safe, affordable homes in Dawson Springs.
The funding will provide up to $25,000 per unit, an average of 20% of the direct construction cost needed.
Following the devastating tornados in December 2021, the Kentucky Chamber Foundation and KSR partnered to create the KSR Tornado Relief fund, which raised almost $1.7 million from more than 7,100 individuals, businesses and groups across the world.
Gov. Andy Beshear attended the event, saying, ""I want to thank these organizations today for bringing so many people together to make a donation to Habitat for Humanity in my dad's hometown of Dawson Springs."
Kentucky Habitat for Humanity Executive Director Mary Shearer said one of their major concerns after the disaster was that families would have to move away from their communities, friends, families and jobs if Habitat for Humanity could not respond in time. Shearer says the funds will now allow them to rebuild not only homes but lives.
In addition, the funds will help local Habitat for Humanity offices grow so they can better serve their communities as they recover, which will include hiring more key staff positions, funding for additional construction equipment and more.