Service members celebrated on Veterans' Day, quilts of valor given to WW2 vets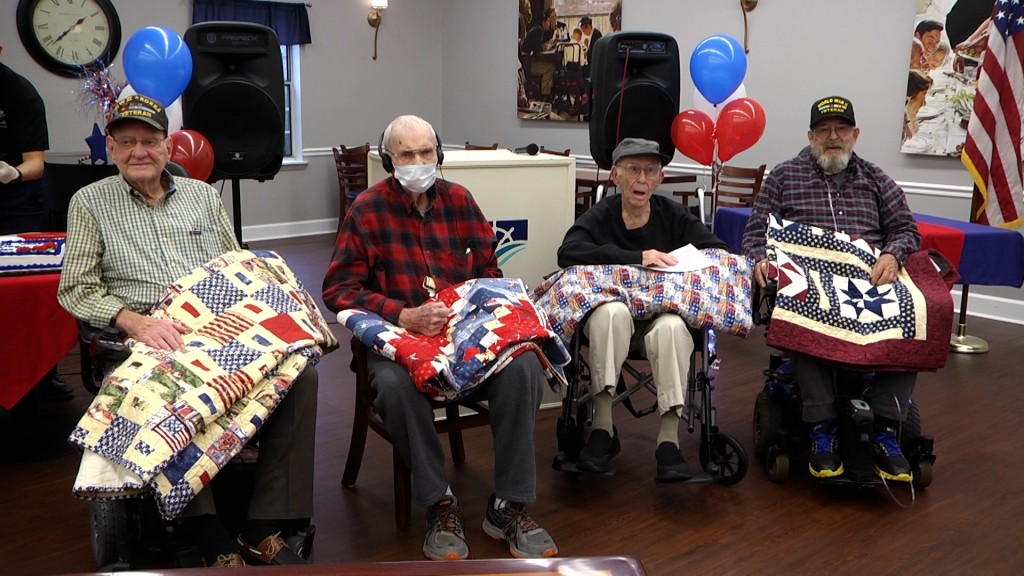 BOWLING GREEN, Ky. – Several local entities celebrated service members past and present today in honor of Veteran's Day.
Armistice day was created just over 100 years ago following World War 1 as a way to honor those who fought for the country.
Then, in 1954, the holiday's name changed to Veterans' Day to honor all military veterans.
Western Kentucky University held a ceremony of honor for all veterans and gave a special salute to three former WKU ROTC men.
Lieutenant Colonel John Casey Perkins, Lieutenant Colonel William Wesley Wilis Jr., and Lieutenant Colonel Bill Pearson are now the newest members of the WKU ROTC Hall of Fame.
Southern Kentucky Community and Technical College also took time to honor veterans Thursday during their 'Meet at the Flagpole' event.
But one really special event took place at a senior living home in Bowling Green.
Four World War 2 veterans were honored for their service and given 'Quilts of Valor' as a thank you for their sacrifice so many years ago.
This is an initiative to provide quilts to veterans by Creative Quilters of Southern Kentucky.
Kathy Speevack, the president of the group, says she hopes it brings joy to vets hearts.
One recipient, Weldon Anderson, lovingly called W.D., said his wife collects quilts, so receiving this symbol of respect was heartwarming.
"It's heart-breaking pleasure, I guess you could call it," said Anderson.
W.D. is a World War 2 and Korean War veteran and was taken as a prisoner of war for three days.
He said the get together was a break in the recent loneliness due to COVID protocols.
But, he said, Veteran's Day is not a happy day for him, as he recalled the tragedies of war.
"It's sad for me. It's sad for me," said Anderson.