Parents honor late child with crayon drive for kids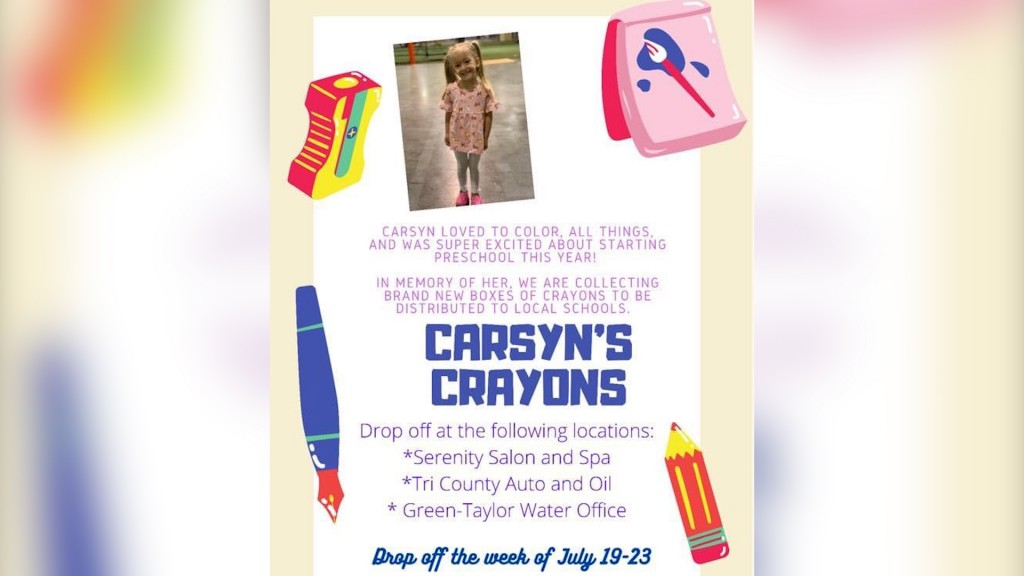 HORSE CAVE, Ky. – A hard story to share, a little girl died in a tragic accident about a month ago, but bringing a little light out of the darkness, her mother has created a crayon drive in her name to help their local schools.
To honor the life of her loving daughter, Carsyn Drew Tucker, her mother, Leia Tucker is collecting boxes of brand new crayons to be donated to the county schools where the supplies were donated.
According to her mother, Carsyn loved to color and was excited about starting preschool this year.
Her mother says she would light up any room she entered and her smile brought people together.
So, her mother is hoping these crayons will bring a little more color and joy to the world around her as a tribute to her late 3-year-old.
"To think of another child having a smile on their face for just getting things at school, you know, they're not expecting, helps us with the coping. It helps us understand that Carsyn is not here with us but she can still make a difference and still can make an impact communities," said Andrew Tucker, Carsyn's father.
"Whether it was her using the dog shampoo or the puppy pad or coloring on the wall or having a face colored with red lipstick, all of which she did, it taught us to live in the moment with our children and enjoy those small moments because you really don't know how many you're going to have," said Leia Tucker, Carsyn's mother.
The Tuckers say they plan to make this drive an every year thing and say they refuse to let their daughter's memory be forgotten.
If you would like to donate, you can drop off crayons at Serenity Salon and Spa, Tri County Auto and Oil or at the Green-Taylor Water Office.