McConnell in Franklin to speak on Drug Task Force program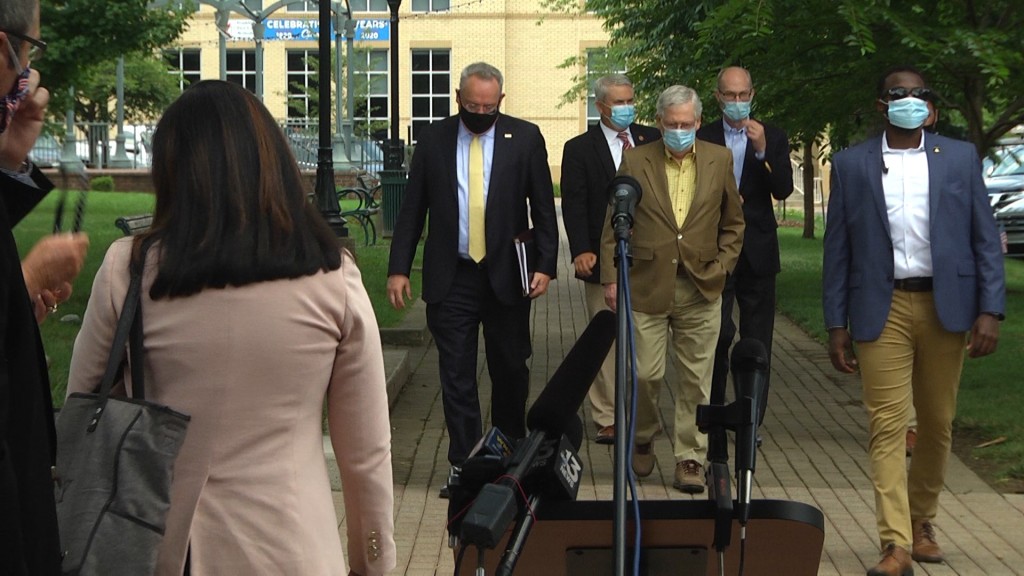 FRANKLIN, Ky. – Senator Mitch McConnell made a stop in Simpson County this morning to tout a drug enforcement program.
McConnell held the news conference outside the Simpson County Courthouse in Franklin Tuesday on the inclusion of Simpson and Logan Counties into the Appalachia High Intensity Drug Trafficking Area Program.
McConnell said Kentucky saw a sharp increase in fatal overdoses over the past several months.
He believes stay at home orders may be to blame.
"Locking people up at home has its own consequences. Spousal abuse is up, substance abuse is up. Being cooped up created a different set of problems," said McConnell.
McConnell joined by local officials, law enforcement agents and the White House Drug Czar Jim Carroll.
The director of the South-Central Kentucky Drug Task Force, Jacky Hunt, said the money this program will bring in is essential for areas with high drug usage.
"We are in a pipeline coming up from the south going to these northern states. I-65 and these corridors and that is how they get it here. That is part of our job, trying to stop that and that is where these initiatives come into play. It gives us access to analysts and to funding to do what we've got to do as a drug task force," said Hunt.
The initiative provides federal support to law enforcement agencies in those designated areas to combat drug production and trafficking.
Logan and Simpson Counties are two of the three Kentucky counties among only 15 counties nationwide to receive new designations this year.