Locals raise money for wounded veterans and families through 5k run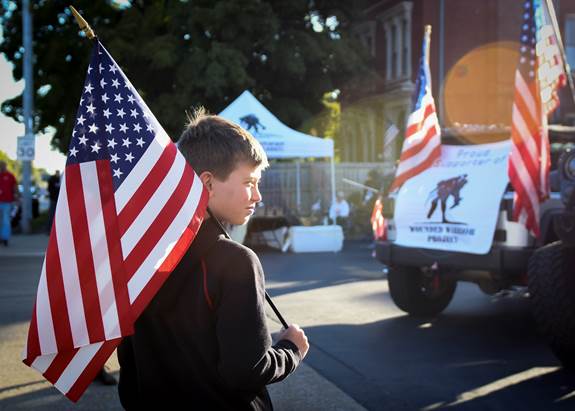 BOWLING GREEN, Ky.- Local veterans gathered today in downtown Bowling Green for a good cause. 
"As Americans, we bleed red, white and blue. No matter what the denomination, color or race, we're all Americans. And that's what we're here to represent, those that gave so much. And we hold it dearly to take care of those veterans and remember them," said veteran Joel Padgett. 
Army/Marine veteran Miki Padgett and Army veteran Sara Glover organized a run in honor of veterans. 
They would normally do the WWP Carry Forward event that's held in Nashville, but because of COVID-19, teams could host their own 5k virtually and individually whenever it was convenient for them. 
"Keep it moving forward. Carry Forward 5k's vision is to take care of those veterans in regards to the fact that the world might stop a little for a pandemic, but it's not gonna stop for us living," said Joel Padgett.  
Miki Padgett and Glover wanted to continue the tradition locally, but as a team. They met through the Nashville event last year and teamed up to show support in Bowling Green. 
"I saw Padgett's team, they raised the most money, they got the most hoo-rah. And I saw him [Miki] from across the field and I was like okay. I accidentally met him down the road for another project and I just knew I had to hang out with him…cuz he's magical," said Glover. 
Glover has her own Veteran organization called Foxtrot Forward. The non-profit's mission is to encourage Veterans and their family and friends to get out into nature for its therapeutic value.
Last year, Team Padgett was the #1 team in fundraising after raising $8000 for injured veterans and their families. 
Supporters symbolized carrying someone forward by holding a flag, wearing a weighted vest, or carrying another person on their back. 
Both of the Padgett brothers served in the army for multiple years. Miki received a purple heart after he sustained injuries serving in Iraq. 
"Being injured, sometimes you don't talk about things. You have internal issues and outside issues. And there's a lot of help that you can find out there but you just gotta be willing to look for it," said Miki Padgett. 
His experience inspires him to help others. 
"We're taught to lead by example so if I can inspire other people to help others in the veteran community…that's what I'm here to do. Let my little light shine," said Miki. 
And his determination is apparent. Last night he was actually hit by a semi truck while driving…he was okay but not in the shape to run today. 
Most people would take time to recover. But Miki said he still wanted to show up and show support to his fellow veterans. 
"So that's the Marine coming out in me, I'm just stubborn," said Miki. 
And his stubbornness and determination to help others shows. His and Glover's team were the top two fundraisers connected to the Nashville event.