Historic warfare helicopter moves to Aviation Heritage Park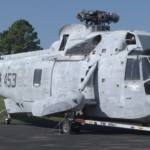 BOWLING GREEN, Ky.- A historic American warfare helicopter currently housed at the Bowling Green-Warren County Airport will soon have a new home.
The SH 3 helicopter will be moved this weekend from the airport to Aviation Heritage Park, where its appearance will be completely restored, before it joins the collection of other historic aircraft at the exhibit.
SH 3 took its first flight in 1959 and was primarily used by the navy until it was retired in 2006.
A board director at Aviation Heritage Park recounted the incredible story of a local pilot's connection to the helicopter.
"We will be restoring this aircraft to honor Col. Mac Reynolds who was a presidential pilot for many years. Mac is a Bowling Green native, a graduate of Bowling Green High School class of '69 and one of our close friends until he passed away recently," said Bob Pitchford.
The SH 3 is set to be moved overnight Saturday into Sunday morning. It's expected to take several hours as the aircraft will need to travel down Lovers Lane, Scottsville Road and Three Springs Road before it arrives at the park.