City of Bowling Green tells story of December tornadoes in new book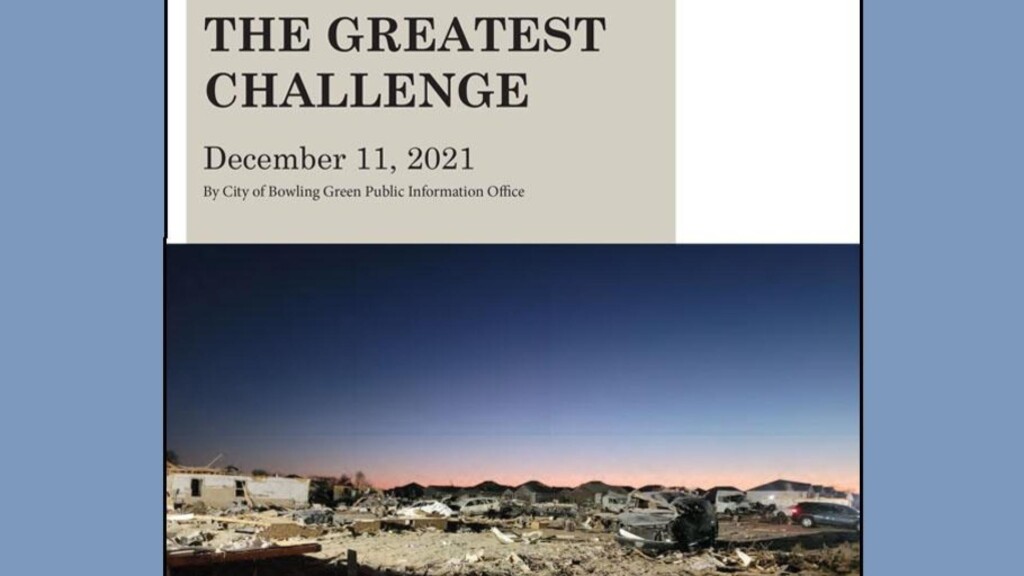 BOWLING GREEN, Ky. – In December 2021, Bowling Green and Warren County suffered devastation due to the December 11, 2021 tornadoes.
The City of Bowling Green says it has decided to tell the community's story in "The Greatest Challenge," a book now available as a free download on the city's website.
Readers can learn about Bowling Green's disaster response and recovery.
The book, written and compiled by the City's Public Information Division, is dedicated to the 17 people who lost their lives as a result of the storms, according to the city.
In addition to the city government's story, the book also contains the stories from leaders within our community organizations that provide vital services such as public education, health, utilities and business support.
"Our hope in sharing our story is to help other communities that may in the future experience a natural disaster similar to ours," the city says.
To read the story, click here.
You may also share your own story for publication on the city's website by sending it to tornadobook@bgky.org. All submitted materials will be subject to editing at the city's discretion.