Beshear signs bills in support of Kentucky military service members, families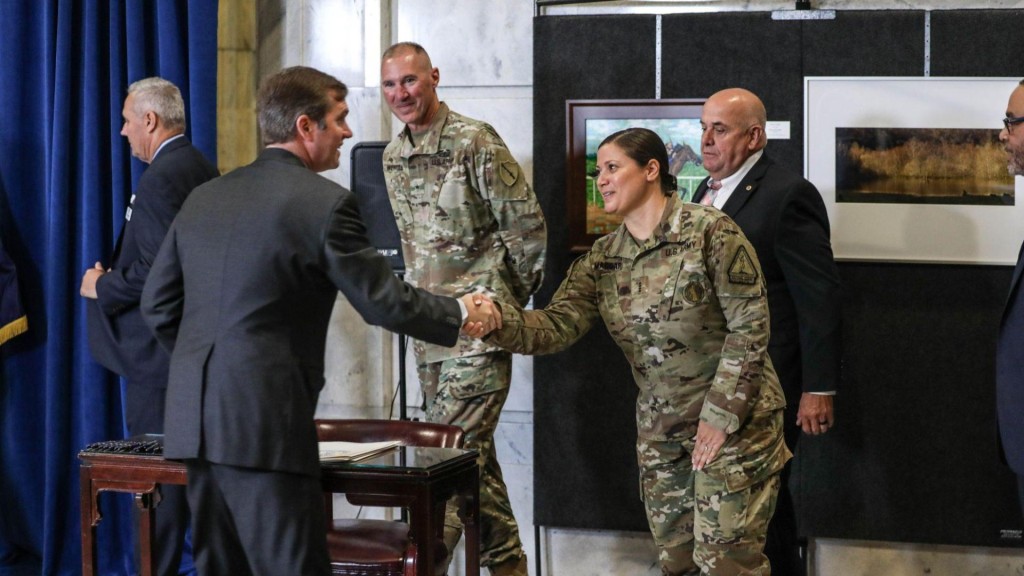 FRANKFORT, Ky. – Gov. Andy Beshear signed legislation into law Wednesday that supports Kentucky's military community and families as part of Military Appreciation Month.
The four pieces of legislation were recently passed by the General Assembly.
According to a release by Beshear's office, Beshear also recognized the ultimate sacrifice of Kentucky service members who lost their lives defending the state and country and thanked Gold Star families for their service.
The governor was joined by bill sponsors and members of Kentucky's military community to sign legislation that expands the Military Family Assistance Trust Fund, makes it easier for military spouses to get occupational licenses and adds seven active military unit license plates to the 28 current military-related plates.
The bills, which will become law on their effective dates, include:
House Bill 636, sponsored by Rep. Walker Thomas of Hopkinsville, expands the Military Family Assistance Trust Fund to provide money for needed emergency costs, such as housing, utilities, groceries, health insurance co-pays and child care to all members of the Kentucky National Guard and reserve components who are residents in Kentucky. Changes were made to ensure all Kentucky National Guard members and reservists are eligible to receive funds, according to the release. Previously, these service members could have been denied funds to help them overcome hardships due only to their lack of federal active duty status.
"Supporting the readiness of our guard members means being there for them when catastrophic events like flooding, fires, tornadoes impact their family and also being there when other emergency and medical hardships occur," said Beshear. "I am proud to sign this bill, which helps us to provide more relief for our guard members. They sacrifice so much to defend our state and country and they deserve to know that we will be here when they need it the most."
The bill also allows trust fund money to no longer be restricted to expenditures in amounts up to $1,000 per situation and up to $10,000 per calendar year.
House Bill 91, sponsored by Rep. Danny Bentley of Russell, makes it easier for spouses of current members of the military to apply for regular and/or temporary occupational licenses and to renew their current license without having to pay dues or fees. As a result of this bill, military spouses, who often move multiple times across the country because of their spouses' military service, can keep current their occupational licenses and keep their jobs and provide for their families without having to face the cost of financial licensure fees. The bill also requires a refund of dues or fees already paid through online applications.
"Military families make many sacrifices as they support their active-duty loved ones, but being able to do their job should not be one of them," said Beshear. "This bill helps us prove we are committed to making Kentucky the most friendly state for military families by removing red tape and fees for military spouses who apply for their occupational license in Kentucky."
House Bill 213, sponsored by Rep. Johnson of Owensboro, allows for Kentucky's participation in the national Occupational Therapy Compact and establishes the Occupational Therapy Compact Commission. These national compacts create effective licensure portability policies for military spouses and Kentucky communities by giving consistent rules for licensed members to work in other states. The compacts assist service members and their spouses to more easily transfer their license to a new state.
"We are proud to partner with the Department of Defense on this effort," said Beshear. "Kentucky is now a member of seven of the eight DOD priority national licensing compacts, and I know members of the General Assembly are working to pass legislation next session to make sure Kentucky is participating in the Emergency Medical Services Compact."
Finally, House Bill 465, sponsored by Rep. Dossett of Pembroke, adds specialty military unit license plates for owners and lessees of motor vehicles, motorcycles and recreational vehicles who are associated with the following seven historically significant active military units and sets forth requirements for obtaining a plate:
The V Corps;
The 101st Airborne Division (Air Assault);
The 5th Special Forces Group;
The 160th Special Operations Aviation Regiment;
The United States Army Human Resources Command;
The United States Army Recruiting Command; and
The United States Army Cadet Command.
"Kentucky is enormously proud of our military members, and this bill makes sure we not only say it but show it," said Beshear. "Adding these military units is a significant way to express our thanks and gratitude for those active-duty service members and their families who have served at these unit's headquarters at Fort Campbell or Fort Knox."
On March 29, Beshear also signed House Bill 345, which improves leave benefits for state employees who serve in the military. Under the new law, a state employee who is a member of the military and has a physical disability due to their active-duty military service or training can now receive up to six months of authorized leave. The release stated this leave provides those serving their country more security as they recover from physical injuries that happened during military service.