Beloved, 40-year-old, stuffed bear heirloom returned to its owner after spending a month at the library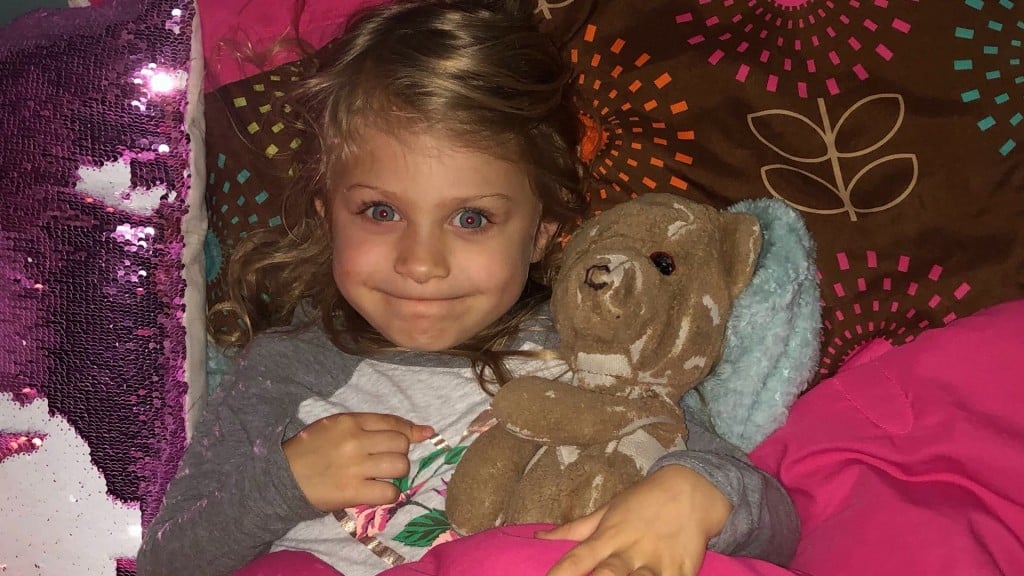 BOWLING GREEN, Ky. – A 40-year-old stuffed animal made its way back into the hands of its child after having spent some quality time with his friends at the Warren County Public Library.
Tuesday, News 40 decided to join in on the search for the owner of the well-loved bear, but when the camera was set up, the owner, Mavis, walked right through the doors!
Mavis' mom, Holli Dematteis, said her husband's mother bought the bear when she was a teenager and gave it to him when he was little.
"He actually used to rub the feet and she had to sew new patches twice, two different times, on the feet, because he had rubbed them off. And so that bear has been well loved and she has taken care of her son with it and now my husband was able to pass it down to my daughter. So, to have something that's been in the family for so long and it's so special and she adores it," said Dematties.
About a month ago, an employee with the Warren County Public Library found Charlie Bear all alone in the library and brought him to the back for safe keeping.
"I picked him up and when I looked at him, I thought, 'Oh, he is a well-loved bear," and I just, I gave him a hug and I thought, 'Somebody's going to be missing him.' So the next day, came in, asked Rachael, I said, 'Could you take a picture of him for me and put him on social media and maybe we can find the family?'," said Deborah Cole.
And that is excitedly what she did!
The community fell in love with Charlie Bear, just like Mavis and her father.
"I think he'll probably be like, 'Well, now everyone loves him as much as I have!' Happy to share him with the world," said Dematties.
"She has other stuffed animals but Charlie Bear, just being her daddy's, there is just nothing like Charlie Bear," said Dematties.
Charlie Bear went home with Mavis, her little sister, and her mom to go see her dad once again and Dematties said Mavis talked to her bear the whole way home.