WNKY News 40 to broadcast Titans preseason games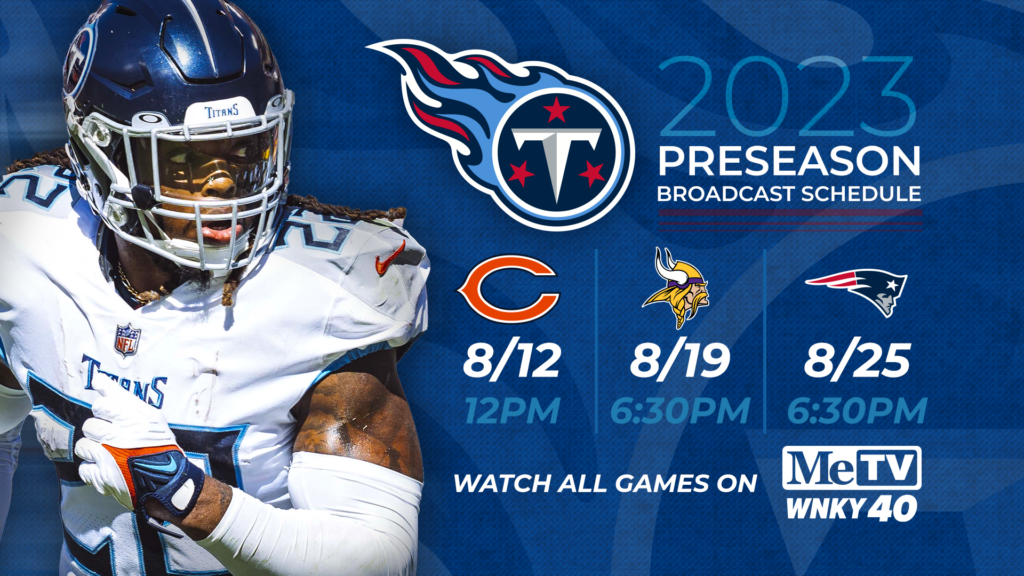 BOWLING GREEN, Ky. – WNKY News 40 Television, in partnership with WKRN in Nashville, will once again be South Central Kentucky's television home of the Tennessee Titans 2023 preseason lineup.
The three-game schedule will air on MeTV 40 in the South Central Kentucky viewing area. The station has proudly served as their exclusive television home for the past seven seasons.
In addition to broadcasting Titans games, WNKY News 40 also broadcasts "The Coach Mike Vrabel Show" and "Titans All-Access" on NBC and CBS, during the regular season.
NFL scheduling is subject to change.
Titans 2023 Preseason Schedule
Saturday, August 12 | @ Chicago | 12PM on MeTV 40
Saturday, August 19 | @ Minnesota | 6:30PM on MeTV 40
Saturday, August 25 | New England | 6:30PM on MeTV 40
For more information about the Tennessee Titans, visit www.tennesseetitans.com.