Red Nose Day returns to NBC for fifth year with a special night of programming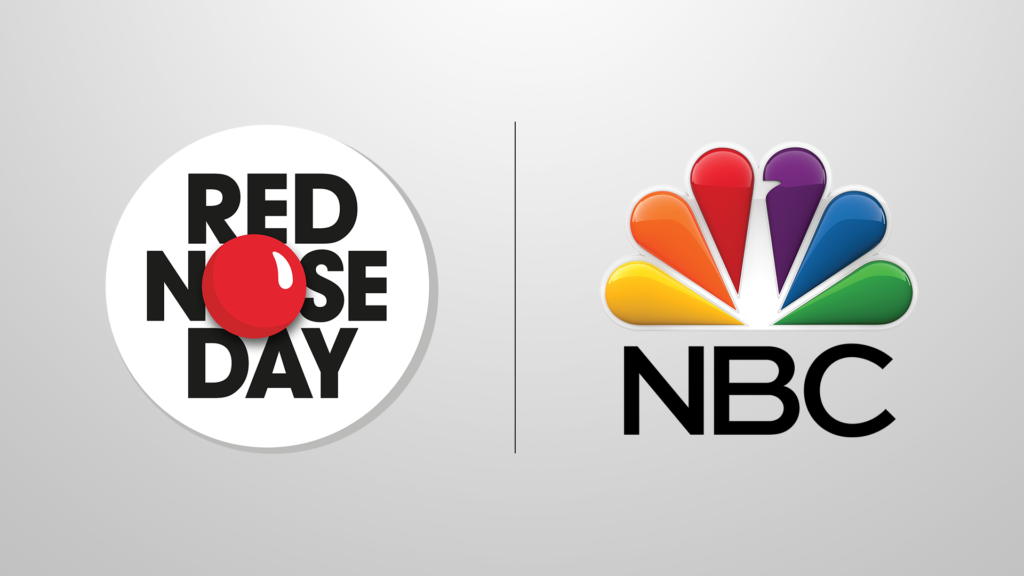 NEW YORK (NBC Universal | Dec. 13, 2018) – Today it was announced that Red Nose Day, the national fundraising campaign to end child poverty, will return to NBC in 2019 with a night of special primetime programming on Thursday, May 23.
Leading up to the star-studded night of programming, celebrations for Red Nose Day engage millions of Americans across the country. The campaign's iconic Red Noses will once again be available exclusively at Walgreens stores nationwide. Comic Relief USA , the nonprofit that runsRed Nose Day, also announced the renewal of all core partners Comcast NBCUniversal, Walgreens, Mars Wrigley Confectionery and The Bill & Melinda Gates Foundation in support of the campaign's mission to end child poverty. In 2019, the multi-week fundraising campaign will culminate on Red Nose Day, Thursday, May 23 with a three-hour block of Red Nose Day-themed programming on NBC.
With the generous support of millions of Americans, hundreds of celebrities and key partners,Red Nose Day has raised nearly $150 million since launching in the U.S. in 2015. Funds raised are evenly split to support domestic and international programs that ensure children in need are safe, healthy and educated.
In its first four years, the money raised through Red Nose Day has positively impacted over 16 million children in the U.S. and around the world, spanning all 50 states and Puerto Rico, and some of the neediest communities in Latin America, Africa and Asia. The campaign has helped to provide:
· educational services to more than 960,000 children;
· more than 13 million essential medical services for children;
· care for over 75,000 homeless and street children;
· over 36 million meals to feed hungry American children.
Janet Scardino, CEO of Comic Relief USA, commented, "Red Nose Day is all about making it fun to make a difference. That brilliantly simple idea has really taken off. This past year we raised over $47 million thanks to the outsized generosity of Americans across the country and our amazing partners – all coming together to help children in the greatest need."
"When we brought Red Nose Day to America, my hope was that we could inspire people to realize we can all truly make a difference for kids living really tough lives and have fun doing so," said Richard Curtis, co-founder of Red Nose Day. "As Red Nose Day USA enters its fifth year, it's clear that it's found a special place in millions of Americans' hearts already and they have really made it their own. I'm thrilled to see what's yet to come."
Red Nose Day's core partners have provided critical support for the charity event since the campaign's launch in the U.S. and will continue to play an integral role in raising both awareness and vital funds to help children most in need. The efforts of these market leaders to support the campaign highlight the important role business plays in changing the world for the better.
NBC will continue as the campaign's exclusive broadcast television partner with a three-hour block of primetime programming celebrating Red Nose Day and promotional support across Comcast NBCUniversal.
"One of the most rewarding parts about having a broadcast network is being able to use that vast reach to make a positive impact on the world," said Paul Telegdy and George Cheeks, Co-Chairmen, NBC Entertainment. "Year after year we're able leverage our hit shows, top celebrity talent and strong affiliate network to grow the awareness of and connection to Red NoseDay. The show's ability to inspire millions of viewers to raise money to help eradicate global child poverty make this one of our most important nights of television all year."
Walgreens will once again return as a national partner and the exclusive retailer of the campaign's iconic Red Noses, which will be on sale during the campaign at its more than 9,000 stores nationwide. Walgreens has sold over 40 million Red Noses since 2015. Alex Gourlay, Co-Chief Operating Officer for Walgreens Boots Alliance, Inc., said, "Walgreens has been a major supporter of Red Nose Day since day one. Thanks to the support of our caring and generous customers, team members and suppliers, we are proud to drive remarkable impact by raising awareness and contributions in our stores throughout the nation for this important cause."
For the fifth year, M&M'S®, a Mars Wrigley Confectionery brand, will continue as a Red Nose Daynational partner, contributing $1 million in funding while supporting the effort through a range of events, integrations, and fundraising. Lee Andrews, Vice President, Corporate Affairs, US/Americas, Mars Wrigley Confectionery, said, "The way Red Nose Day uses humor and entertainment to engage people around a cause is a natural fit for our M&M'S® Brand. It's become a highlight for our employees too, with thousands of our associates coming together in May to have fun and make a difference."
Longtime Red Nose Day supporter The Bill & Melinda Gates Foundation will continue as a key funding and programming partner. Jennifer Alcorn, Deputy Director of Philanthropic Partnerships at the Bill & Melinda Gates Foundation, said, "Red Nose Day is a wonderful moment in time. We are proud to partner with Comic Relief and join other Americans in improving the lives of children living in poverty in the US and around the world."
For more information on "The Red Nose Day Special," visit www.nbcumv.com/red–nose–day-special or the NBC Universal Media Village website at www.nbcumv.com.
Please follow us on Facebook at www.facebook.com/NBC and on Twitter at www.twitter.com/NBC