Lt. Gov. Coleman, Kentucky State Police pay tribute to fallen officers, K-9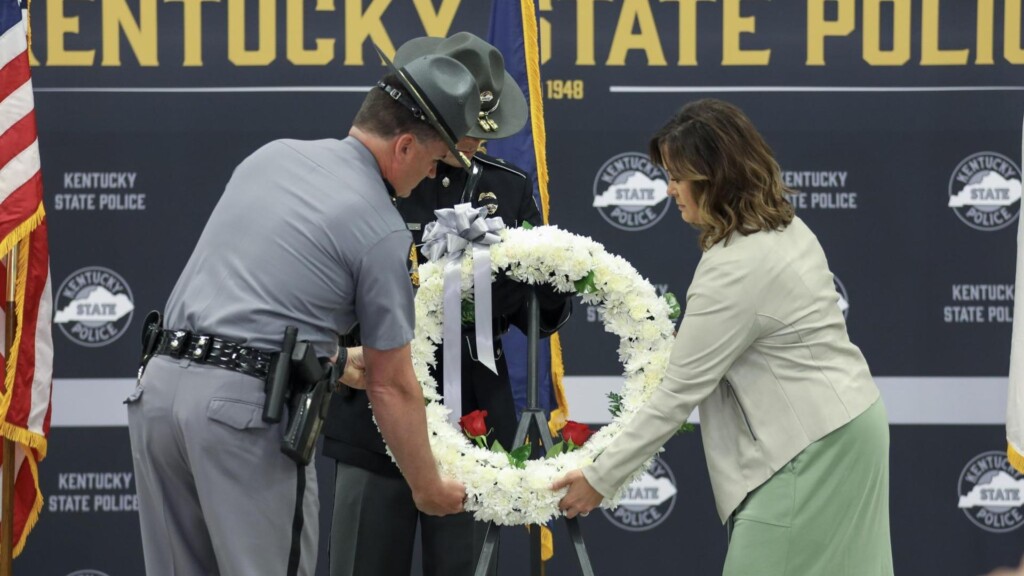 FRANKFORT, Ky. – Kentucky officials joined law enforcement this week to honor those lost in the line of duty.
Lt. Gov. Jacqueline Coleman gathered with troopers at the KSP academy in Frankfort Wednesday, where they recognized 37 law enforcement officers during an annual memorial ceremony.
In addition to the fallen officers, officials honored a KSP German Shepherd K-9 named Orofino who was shot and killed in 1991.
In a separate event, Gov. Andy Beshear also recognized Caleb Conley, a decorated deputy of the Scott County Sheriff's Office, who was killed during a traffic stop on Monday.
"We are deeply grateful for the sacrifices these officers made and the sacrifices their families continue to make each and every day," Beshear said. "We promise to never forget them and to continue to provide for them and honor them in any way we can."
The following is the end-of-watch date for troopers, officers and highway patrolmen who were honored during the ceremony:
Trooper Harold J. Toll: Nov. 14, 1948
Trooper Robert R. Miller: Feb. 14, 1951
Trooper Lee T. Huffman: May 19, 1953
Trooper Herbert C. Bush: Oct. 11, 1958
Trooper William E. Tevis: May 26, 1963
Trooper Elmer Mobley, Jr.: May 28, 1964
Trooper Cecil W. Uzzle: May 28, 1964
Trooper Delano G. Powell: July 8, 1965
Trooper Mack E. Brady: Nov. 9, 1966
Trooper William H. Barrett: Dec. 19, 1971
Trooper James W. McNeely: April 8, 1972
Officer David T. Childs: April 8, 1972
Trooper Walter O. Thurtell: Sept. 29, 1972
Trooper Joseph Ward, Jr.: April 23, 1973
Lt. William C. Smith: April 26, 1973
Trooper John W. Hutchinson: June 4, 1975
Trooper Bobby A. McCoun Jr.: Sept. 1, 1975
Trooper William F. Pickard: Jan. 21, 1976
Lieutenant Willis D. Martin: April 26, 1977
Trooper Clinton E. Cunningham: Feb. 11, 1979
Trooper Edward R. Harris: Nov. 7, 1979
Trooper Jerome S. Clifton: Oct. 1, 1980
Detective Darrell V. Phelps: Aug. 7, 1981
Trooper Johnny M. Edrington: Dec. 20, 1988
Trooper Johnny G. Adkins: Nov. 19, 1995
Officer Jason W. Cammack: April 23, 2000
Trooper Jonathan K. Leonard: Dec. 19, 2006
Trooper Anson B. Tribby: Jan. 22, 2013
Trooper Eric K. Chrisman: June 23, 2015
Sgt. David R. Gibbs: Aug. 7, 2015
Trooper J. Cameron Ponder: Sept. 13, 2015
Patrolman James P. Hays: Dec. 21, 1935
Patrolman Robert Rowland: Dec. 22, 1935
Capt. Vernon Snell: Feb. 20, 1937
Patrolman Moses H. Littrell: March 14, 1938
Patrolman Houston Greene: May 18, 1944
Patrolman Vadas G. Richardson: October 7, 1944