Glasgow police discover more than 2 pounds of marijuana during traffic stop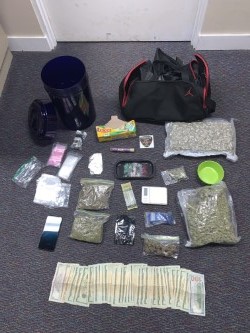 GLASGOW, Ky.- A Bowling Green man is behind bars following a traffic stop in Glasgow. Police said they discovered more than 2 lbs of marijuana located in a duffel bag.
The traffic stop occurred Saturday on S L Rogers Wells Blvd.
In addition to the marijuana, police said they also located digital scales and a large amount of money. The marijuana weighed 2.04 lbs, according to police.
Depending on the purity of the marijuana, the street value is $4,000-$8,000 per pound.
Ryan Picard, 27, was arrested and charged with trafficking in marijuana, possession of drug paraphernalia, and several traffic-related offenses.
Picard is being held on a $2,500 bond inside the Barren County Detention Center.