Gabrielle Union, Julianne Hough and Terry Crews join season 14 of NBC's summer blockbuster 'America's Got Talent'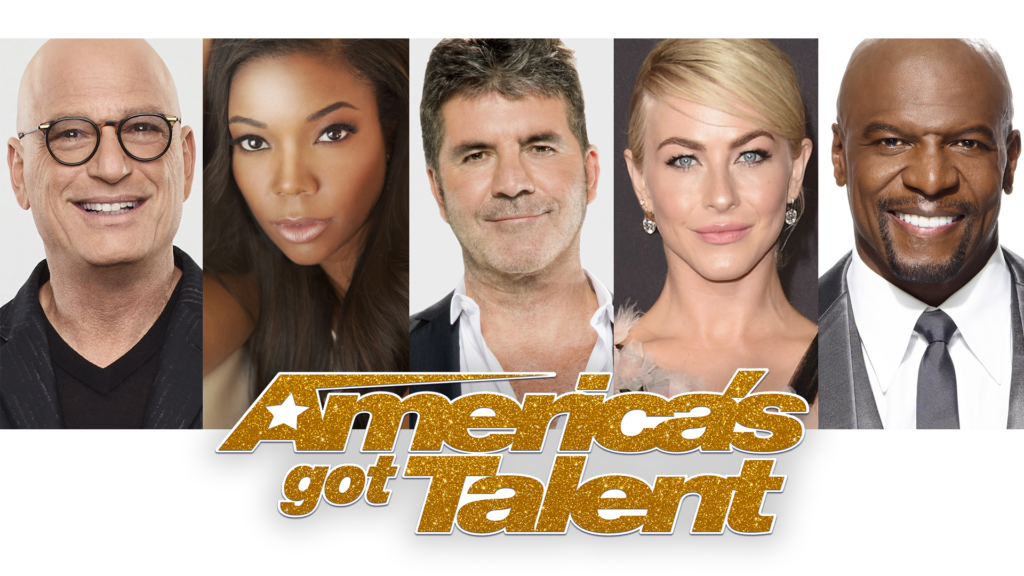 UNIVERSAL CITY, Calif. – Feb. 11, 2019 – NBC's unrivaled and beloved summer sensation "America's Got Talent" revs up the excitement for season 14 with award-winning actress, author and producer Gabrielle Union and actress, dancer, singer and Emmy Award-winning choreographer Julianne Hough joining the judging panel. In addition, Terry Crews will serve as host of the hit series, a role he currently fills on the highly rated "America's Got Talent: The Champions."
Union and Hough will now join executive producer Simon Cowell and Howie Mandel as they return to their roles as judges.
"One of the many secrets to the success and longevity of 'America's Got Talent' is its fearless drive to reinvent itself," said Meredith Ahr, President, Alternative and Reality Group, NBC Entertainment. "The next evolution of the format brings in fresh expert eyes to join Simon and Howie on the panel. Gabrielle and Julianne are two of the most aspirational women in the business, on top of being electric entertainers with talent across disciplines. I am excited to see how their knowledge, compassion and sheer joy enhance the experience for acts and viewers alike."
Ahr added, "As their partner in crime, host Terry Crews will continue to light up the stage with his quick wit and unending charm."
"Our millions of longtime viewers have already embraced Terry as the host of 'AGT: The Champions,' and we are excited to welcome Gabrielle and Julianne to the 'AGT' family," said Trish Kinane, President of Entertainment Programming, Fremantle North America. "They are ready to bring a new level of expertise, energy, entertainment and fun to our judging panel."
"America's Got Talent" has remained summer's #1 alternative show for 13 seasons. The series once again dominated the summer television landscape this past summer. The final performance episode on Sept. 19, 2018 during which magician Shin Lim was crowned champion, delivered the show's most-watched telecast of the season to date, attracting 13 million same-day viewers. And this season the "AGT" premiered its first-ever global brand extension with "America's Got Talent: The Champions," which launched in January and established itself as the season's #1 most-watched alternative series.
Union, who is set to executive produce and star in the highly anticipated "Bad Boys" TV spinoff "L.A.'s Finest" on Charter's Spectrum network that is set to premiere on May 13, is well known for her roles in several high-profile films, including "Bring It On," "Bad Boys II," "Think Like a Man," and last summer's hit movie for Universal "Breaking In." Union is known for her hit show "Being Mary Jane" which will have its two-hour finale in April on BET. Her bestselling memoir, "We're Going to Need More Wine," was released in 2017.
Hough is a two-time professional dance champion and has appeared as a judge on "Dancing with the Stars" and has starred in such films as "Footloose," "Rock of Ages," "Safe Haven" and the recent "Bigger." She earned rave reviews in the Emmy-winning broadcast "Grease: Live" and will be seen in the upcoming Netflix anthology series "Dolly Parton's Heartstrings." She has produced two Miss USA broadcasts and various Disney holiday specials, has been featured in numerous high-profile campaigns and is active in a wide range of philanthropic endeavors, charities and humanitarian efforts.
Crews is an action-movie hero, sitcom star, advertising pitchman, playable video game character, high-end furniture designer and human rights activist. He co-stars in the Golden Globe Award-winning NBC series "Brooklyn Nine-Nine," co-starred in the blockbuster hit "Deadpool 2" and the hit indie film "Sorry to Bother You." Crews is also the face (and muscles) of Old Spice, a playable character in Microsoft's Xbox One game "Crackdown 3" and a force in the design and art world. Crews was also named one of Time magazine's Person of the Year as one of the "Silence Breakers," speaking out against sexual harassment following the #MeToo movement.
The "Got Talent" format has had more than 900 million global viewers since it began airing in 2006 in America, and has aired in 194 territories worldwide. "Got Talent" holds the Guinness World Records title as the Most Successful Reality Television Format in history, with 70 local versions produced across Europe, Asia Pacific, the Middle East, Africa and the Americas.
Auditions for the upcoming season of "America's Got Talent" are still underway. Interested acts can submit an online audition at AGTauditions.com up until midnight EST on Monday, March 4.
"America's Got Talent" was created by Simon Cowell and is co-produced by Fremantle and Syco Entertainment. Simon Cowell, Sam Donnelly, Jason Raff, Trish Kinane and Richard Wallace are the executive producers.