Bunny with a badge: Rabbit helps officers with mental health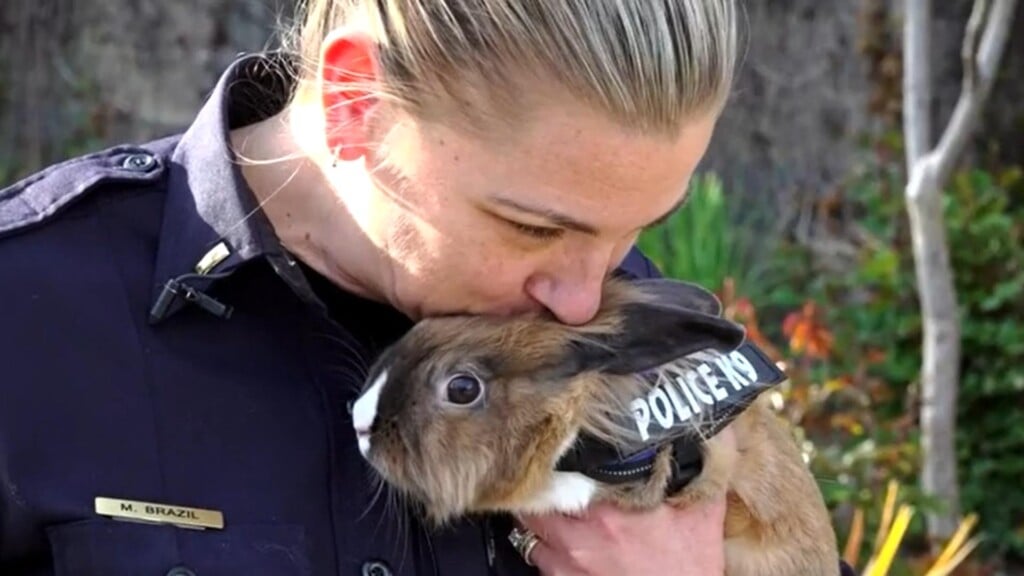 YUBA CITY, Calif. (KMAX, KOVR) – An abandoned bunny now has a job at a California police department.
His name is Percy, and he plays a key role in helping officers decompress at the Yuba City Police Department.
You might think the Easter bunny came early. But this is no candy-toting holiday rabbit; this is Percy, or Officer Hops.
"This idea came as kind of a joke and it's really caught on," said Chelsea McCready, police services analyst.
His official title, wellness officer with the Yuba City Police Department, serves as an outlet for stress for officers and staff who see a lot of bad.
"Being able to hold him, pet him and just kind of step back from that situation for a minute, regroup, is vital," Lt. Michelle Brazil said.
A push department wide for a focus on mental health came in 2022, and along came this therapeutic thumper. It all started when officer Ashely Carson found him abandoned while on call.
"I started to call him and I said, 'Here bun, bun!'" Carson said. "He came running up to me and he stood on his hind legs and I picked him up."
She took him to the animal shelter, and after a few weeks with no family found, McCready adopted the rabbit and gave him a home and an office.
Percy comes to work with McReady every day, even working some shifts when she's not there.
We're seeing the long-term benefits of it already in even just a short amount of time," Brazil said.