WKU Men's Golf: Seniors Easton, Sargent relishing opportunity to play in NCAA Regionals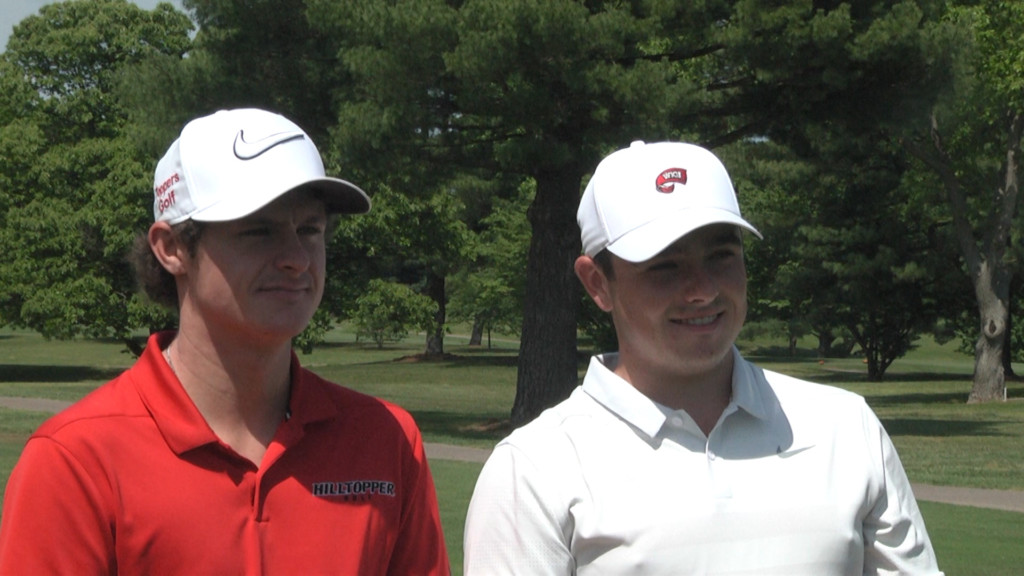 BOWLING GREEN, Ky. – Western Kentucky men's golfers Billy Tom Sargent and Stuart Easton have already made history by becoming the first pair of Hilltoppers to qualify for an NCAA Regional in the same year.
That duo almost never got the chance to compete in that tournament to begin with though.
It was actually a disappointing evening on May 1 when the NCAA Men's Regional Golf fields were announced, and Stuart Easton's name wasn't on it.
He was literally the first player out of the field.
"It was a bit of an emotional roller coaster finding out the night before my name not called and thinking, OK, that's my season done," said Easton.
The next morning though, Easton got a call from WKU head coach Chan Metts, who had news that Easton didn't expect – his season wasn't over yet.
A player had dropped out, and Easton moved into the open spot for his first career appearance in an NCAA Regional.
"It was a crazy 12 hours, but just delighted to get the chance," Easton added. "Can't wait to get started on Monday."
On selection night, Easton's teammate Billy Tom Sargent was selected to the field for the second straight season, making this the first time in WKU men's golf program history that two Hilltoppers had qualified for regionals in the same season.
"I was so excited to have a teammate going to regionals even though it's not the same site," said Sargent.
Since Easton was a fill-in, he's actually playing in a different regional than Sargent.
Sargent will be playing in Athens, Georgia, while Easton will be competing in Myrtle Beach, South Carolina.
With WKU having two players in two different regionals, they have the opportunity, if Sargent and Easton win their region, to become the only school in the country to have two players in the 2019 NCAA Championship.
"The fact that we're going to get to share the experience, even though we're at different sites, the fact that we're both there is going to be phenomenal," said Easton. "This is a great opportunity."
"I don't know of another scenario like it," added Sargent. "I've never seen it before. It's good though because now instead of only one of us having a chance to make it to the NCAA Tournament, we both can."
If they do, they'll make program history. Again.
Sargent and Easton were two of the teams three seniors this season, and after playing together for the past four years, they couldn't ask for anything more than to finish out their careers together on a stage as big as this.
"We go back and forth all the time," Sargent said. "We push each other to be better golfers. For both of us to end our careers like this is pretty special."
The NCAA Regionals will take place from May 13-15.