United Way of Southern Kentucky announces more than $630,000 for Warren County programs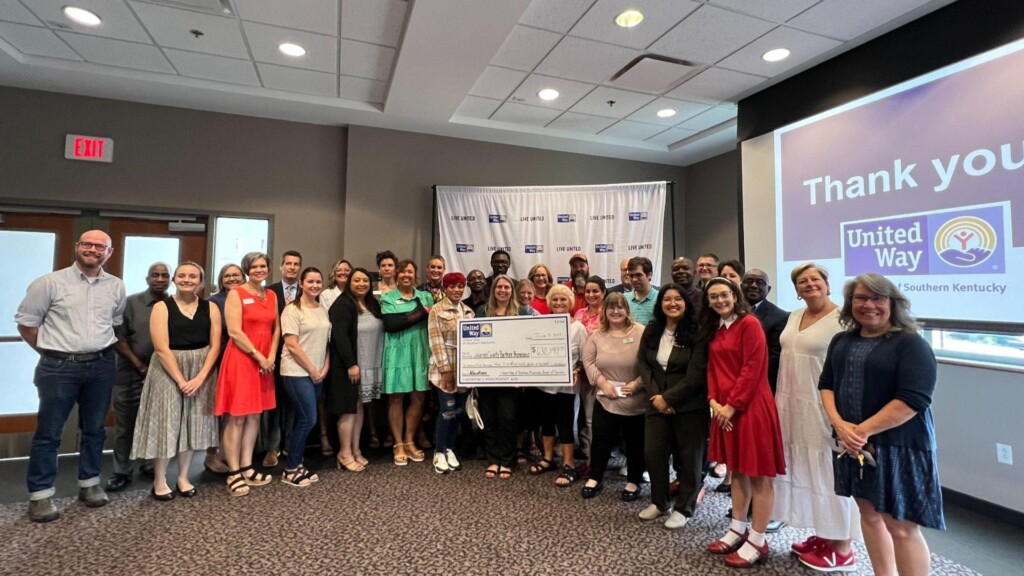 WARREN COUNTY, Ky. – United Way of Southern Kentucky has announced plans to invest in 26 programs in Warren County.
According to United Way, more than $630,397 will go to local education, health, income and safety net programs.
Among the recipients are the Family Enrichment Center, Warren County Public Schools Little Learners Mobile Classroom and Kindergarten Readiness Summer Camp and Boys & Girls Club of Bowling Green.
The investments will be effective July 1, 2023 through June 30, 2024, according to United Way.
United Way says in total, $1,036,955 will be invested across the 10-county Barren River Area Development District. This includes Allen, Barren, Butler, Edmonson, Hart, Logan, Metcalfe, Monroe, Simpson, and Warren counties.
The following in Warren County will receive funding in the allocated amounts:
EDUCATION $339,147
Kindergarten Readiness: Led by Committee Chairs, Kenly Ames and Joe Tinius
Family Enrichment Center, Little Bobcat Learners Program: $27,193
Family Enrichment, Wee Care Child Care Center: $55,193
The Foundry Christian Community Center, Preschool Academy: $60,000
Suzanne Vitale CED, Building Bridges to Kindergarten: $9,000
Warren County Public Schools, Kindergarten Readiness Summer Camp: $21,500
Warren County Public Schools, Little Learners Mobile Classroom: $37,500
College/Career Readiness: Led by Committee Chairs, Dr. James McCaslin & Erin Ballou
Boys & Girls Club of Bowling Green, The CLUB Teen Center – CAREER LAUNCH:
$34,000
Warren County Public Schools, College/Career Transition Readiness – Connect
Students to Success: $40,000
WROTE Foundation, Bridging the Gap After-School/Summer Enrichment Program:
$54,761
INCOME $26,093
Workforce Development: Led by Committee Chairs, Lincoln Skaggs and Jonathan Wysong
Refuge Bowling Green, English Academy: $15,093
SKYCTC Foundation, CDL Program: $8,000
Lifeworks Bridge to Independence Scholarship Program: $3,000
HEALTH $142,294
Access to Affordable Health Care: Led by Committee Chairs, Lindsay Sanson and Brooke
Schakat
Barren River Child Advocacy Center, Trauma Focused Mental Health Therapy: $24,000
CARE USTZ, Resettlement & Empowerment Program: $3,000
Kentucky Legal Aid, Barren River Long Term Care Ombudsman: $25,000
Kentucky Legal Aid, Benefits Counseling: $25,000
New Beginnings Therapeutic Riding, Inc., Equine Assisted Activities and Therapies
Program: $5,000
Safe Home & Community: Led by Committee Chairs, Brenda Polley and Thomas Manco
BRASS, Emergency Shelter & Crisis to Protect & Empower (ESCAPE): $30,294
Kentucky Legal Aid, Emergency Shelter & Crisis Aid to Protect & Empower (ESCAPE):
$30,000
SAFETY NET $122,863
Access to Basic Needs: Led by Committee Chairs, Tom Flynn and Angela Dossey
GLEAN of South Central Kentucky: $7,500
Habitat for Humanity, Affordable Workforce Housing: $33,000
Kentucky Legal Aid, Emergency Legal Assistance: $42,500
Megan's Mobile Grocery: $12,277
Transportation: Led by Committee Chairs, Lincoln Skaggs and Jonathan Wysong
BRASS, Shelter Transportation Assistance Program: $6,294
Refuge Bowling Green, Driver's Education Program: $11,292
Union of Refugees and Immigrants for Development in America: $10,000