U.S. Congressman Brett Guthrie tours TJ Samson Health Pavilion COVID-19 vaccine clinic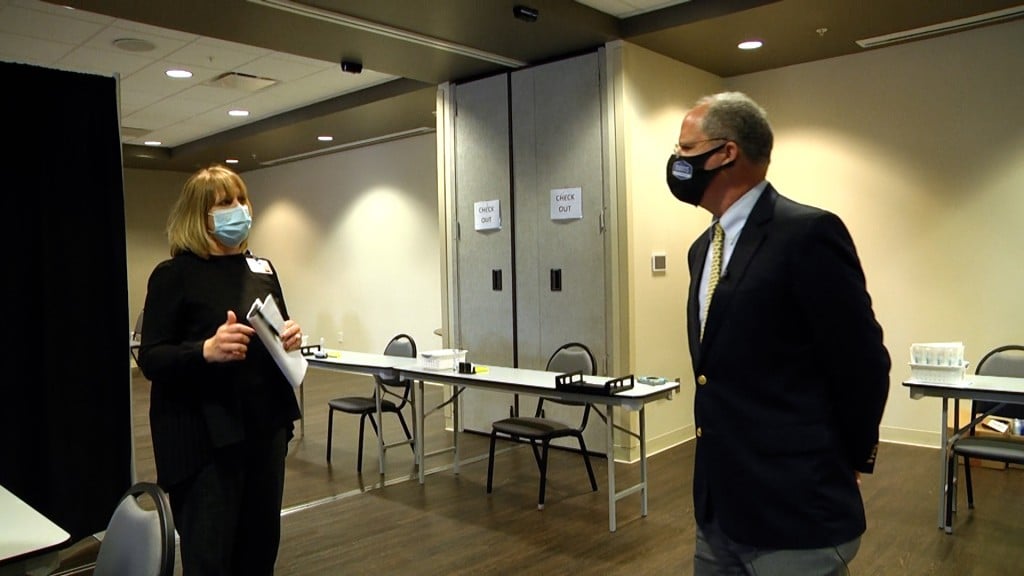 BOWLING GREEN, KY. – House Representative Brett Guthrie was in Glasgow Monday touring a vaccine clinic set up at a local hospital.
The Congressman toured the site at TJ Health Pavilion and listened to some concerns and celebrated successes from those in charge at the clinic, like Stacey Biggs, the Executive Vice President of Marketing at TJ Samson.
"He had heard about our vaccine clinics, we are doing several hundred a week here in Glasgow and also several hundred a week at our clinic in Columbia, so we wanted to show him the set up that we have, how we can move people through here very, very quickly. It's very efficient. And also, we wanted the opportunity to talk to him about some issues that we have run into along the way, whether it was about billing, insurance, funding, COVID funding, those kinds of things too," said Biggs.
Some of those concerns included insurance problems involving Tricare and others who have been trying to make patients pay a copay.
Guthrie said being a part of the distribution planning in Congress, seeing these kinds of clinics succeeding is incredible.
"This is something to see this come to fruition. It just shows that when people really work together on a product, they don't let partisanship or other things get in the way, we can make big things happen. There has been some hiccups in the road as we've moved forward, but this is an example. I mean, people can, I mean, lines were really long in January and now people can call and get almost a same day appointment to come here," said Guthrie.
Guthrie also highly encourages everyone to get vaccinated.
He even said, if you are concerned about the speed of the vaccines release, don't be.
It was a process already in the works for many years and the red tape that often slows down approval was removed.
He also said this vaccine is bipartisan.
"Most of this was done under President Trump's administration, and so if you are not a follower of President Trump then the implementation has been done under President Biden's administration, so I think that if you think that it's a political problem, so you are not going to get vaccinated, that is just not the right way to look at it because it has been across both administrations. As a matter of fact, most of the work was done under President Trump's administration so if you are politically conservation and are concerned about vaccines because of the government, most of this was done under President Trump," said Guthrie.
There are appointments available at the vaccination clinic which is open in Glasgow on Wednesdays and Fridays for two more weeks, then it will only be open on Fridays.
You can make an appointment by calling 270-659-1010.
TJ Health also is asking the public to cancel appointments if you do not plan to show up, otherwise they risk wasting a vaccine.
So far, all vaccines thawed for an appointment someone missed have been used on other individuals and have not been wasted.