Beshear unveils 2023 Governor's Derby Celebration Poster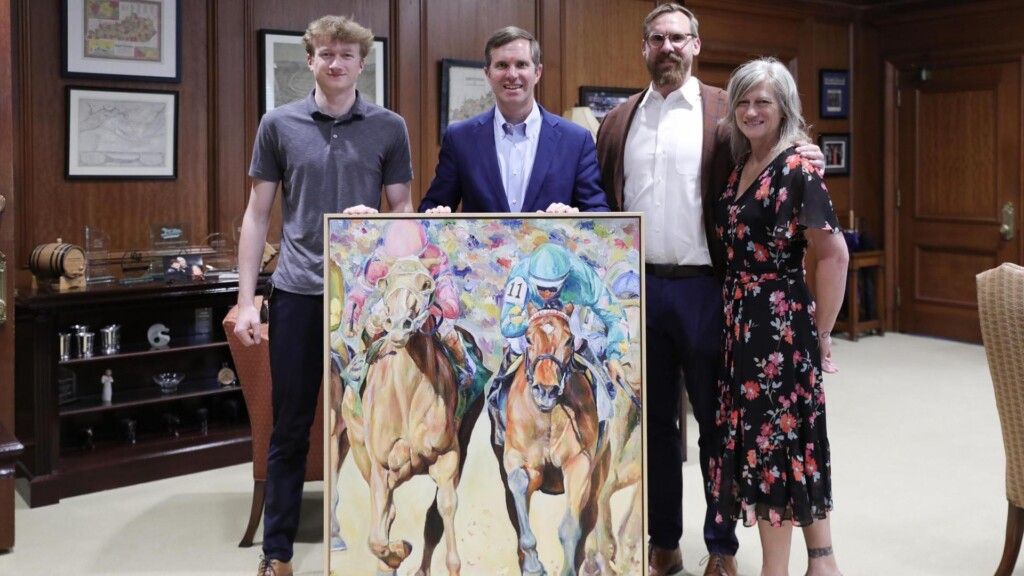 FRANKFORT, Ky. – During Thursday's Team Kentucky update, Gov. Andy Beshear gathered with Louisville artist Richard Sullivan to officially unveil the 2023 Governor's Derby Celebration Poster.
To celebrate the 149th Kentucky Derby, Sullivan designed this year's poster to portray the commonwealth's long history of horseracing.
"The Kentucky Derby represents sport, business, culture and heritage, but it's also art," Beshear said. "Through the ages, artists have been inspired by the Derby. The piece that Richard Sullivan has created for the Derby Celebration poster this year captures the power, joy and celebration of experiencing the race firsthand. I want to thank Richard for his work to capture the energy and excitement of the most exciting two minutes in sports."
According to the governor's office, Sullivan's inspiration for the poster came from the energy the horses create while competing.
"I am so honored to have been asked to create the 2023 Governors Derby Celebration poster," Sullivan said. "As an artist and former athlete, I love capturing the raw athleticism, power and movement of the horses as they gallop down the track."
The Kentucky Derby is the longest-running sporting event in U.S. history and an integral part of Kentucky's horse racing history. Since 1875, the commonwealth has produced "the most exciting two minutes in sports."
The 149th Kentucky Derby will be held on Saturday, May 6 at Churchill Downs in Louisville.