WKU Women's Basketball: Elgedawy named to NCAA Weekly Starting Five
Egyptian is the fourth Lady Top all-time to be named to Starting Five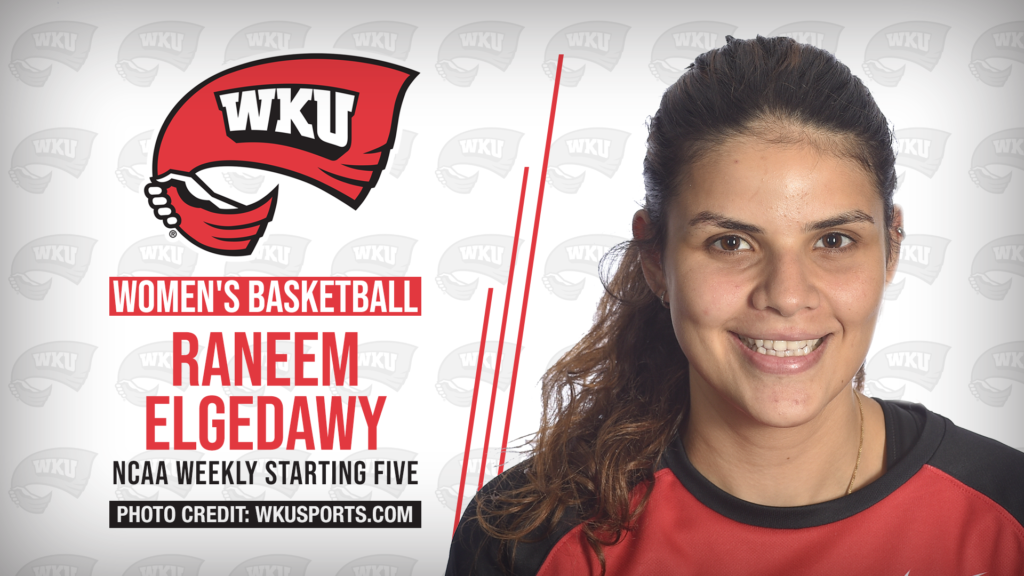 INDIANAPOLIS, Ind. – Sophomore forward Raneem Elgedawy has been named to the prestigious NCAA Weekly Starting Five as announced by the organization on Wednesday morning, becoming only the fourth Lady Topper in program history to earn the Starting Five accolades.
Elgedawy joins three Lady Topper legends who have previously been honored with a spot in the Starting Five: Chastity Gooch earned the honor in 2014-15, Kendall Noble did so in 2015-16 and Tashia Brown was the most recent Lady Topper named to the weekly list, picking up the laurels in 2016-17.
The Alexandria, Egypt, native turned in arguably the strongest week of her career since arriving at WKU, becoming the first WKU post player in more than five years to have back-to-back 25-point games. The sophomore fell one rebound shy of having a double-double in both wins at FIU and Florida Atlantic, but her 16 rebounds at Florida Atlantic were her second-best total of the season and the most by any C-USA player in a conference game thus far in 2018-19.
Elgedawy accounted for nearly a third of WKU's 175 total points in a high-scoring week, and the Egyptian also turned in a strong defensive effort, notching a career-best five steals against the Owls. Through five C-USA games, Elgedawy is the only player in the conference ranked in the top five for both scoring (19.8 points) and rebounding (8.6) in C-USA play.
For the season, Elgedawy is averaging 16.1 points and 8.0 rebounds per game, significantly raising both totals from her C-USA Freshman of the Year campaign in 2017-18. On Monday, Elgedawy was named the C-USA Player of the Week for the first time in her career, joining Tashia Brown as the only Lady Toppers to win both a Freshman of the Week and Player of the Week award since joining C-USA in 2014-15.