WKU Men's Basketball: Hilltoppers welcome NBA scouts for 2nd annual Pro Day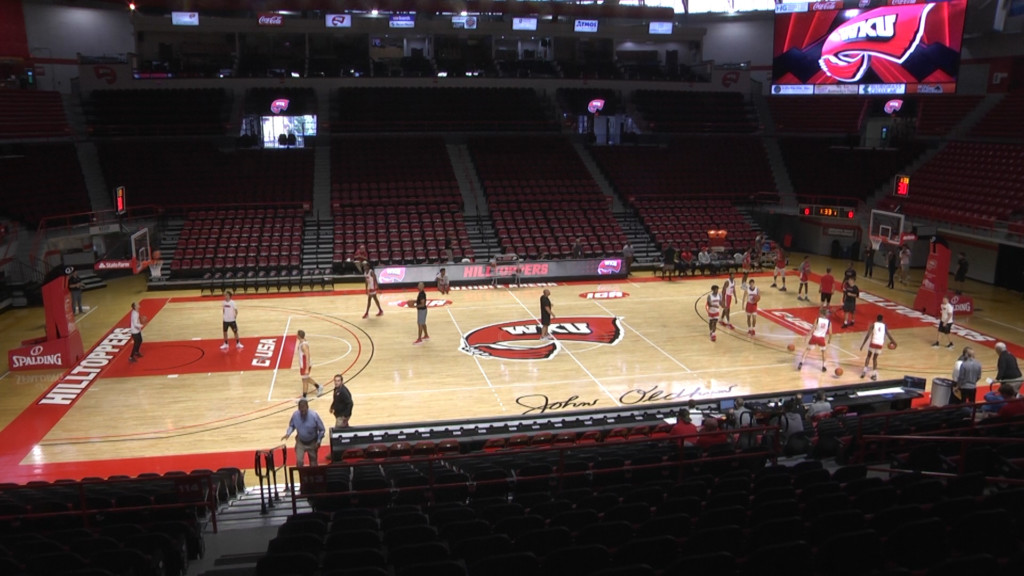 BOWLING GREEN, Ky. — More than a dozen NBA teams watched intently from the sidelines Wednesday as WKU Hilltopper Basketball hosted its second straight Pro Day at E.A. Diddle Arena.
The Hilltoppers opened practice to all NBA teams and credentialed media, with scouts lining press row and the stands across one side of the arena.
The entire team went through Wednesday's Pro Day, which followed a format similar to that of a regular practice – with a few tweaks.
"We wanted it to be as much of a practice as possible, but at the same time, doing a few more things that may demonstrate some skills of some players – shooting ability, handling that ball," WKU head coach Rick Stansbury said. "But at the same time, I want them to see guys think in a quick pace, who can react and who can see the next play coming in the flow of a basketball game. We accomplished what we wanted."
Last year, the Hilltoppers hosted the first Pro Day in program history, bringing more than 20 NBA scouts to Bowling Green.
WKU caught the attention of the NBA often in 2018-19, with 350-plus scout visits home and away, including as many as 40 at once. They routinely drew double-digit scouts for home games at Diddle Arena.
The program has a storied history at the professional level with 35 NBA Draft picks and 20-plus former Hilltoppers currently playing pro ball in the United States and overseas. In Stansbury's first three seasons at WKU, all nine outgoing seniors have earned the opportunity to play professional basketball.
Among the players drawing attention is sophomore center Charles Bassey, who has been named a Preseason First Team All-American by multiple outlets.
Bassey declared for the 2019 NBA Draft in the spring without signing with an agent. The 6-foot-11 center went through workouts and participated in the NBA Scouting Combine before opting to withdraw and return to school in May.
But Stansbury noted that when that many scouts come to WKU, all of the Hilltoppers reap the rewards.
"I think your whole team benefits," Stansbury said. "Whether guys can play in the league or not, a lot of them think they can. They had an opportunity to have a lot of NBA teams up here today. If you're good enough to be an NBA player, they're going to find you."
While Wednesday's event was open only to scouts and media, the general public will get its first look at the 2019-20 squad next week at Hilltopper Hysteria at 6 p.m. CT Thursday, Oct. 17.
Both the men's and women's programs will be introduced and scrimmage, with the men changing formats this season to go through a full, open scrimmage.
"They have an opportunity to come see us for the first time," Stansbury said. "It'll be a live, full scrimmage game. It won't just be running and dunking the basketball. I hope we can pack this thing. It's the first chance for everyone to see us. I think it's very obvious we like our team, and we've got a chance."