Western Kentucky University honors veterans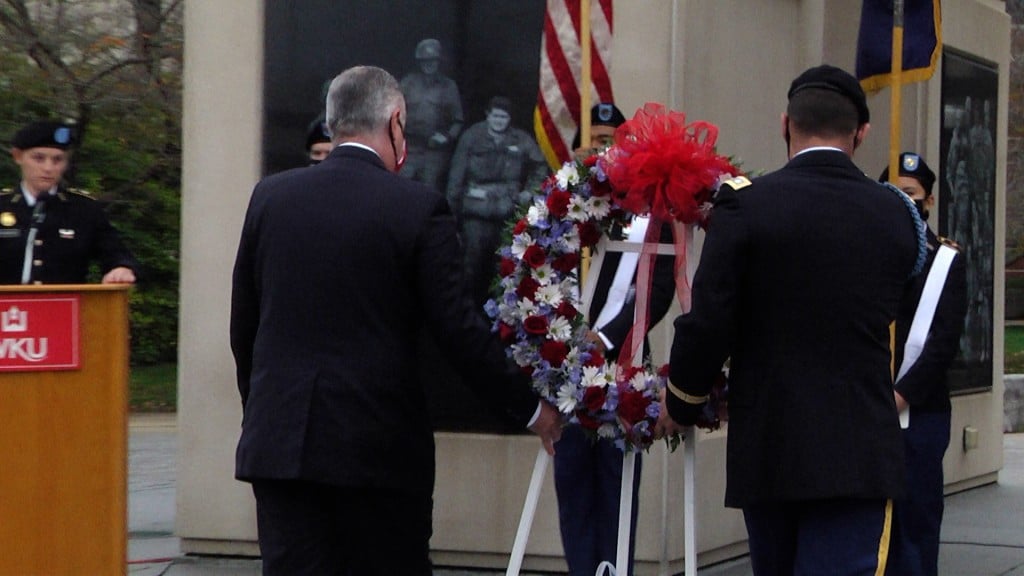 BOWLING GREEN, Ky. – Western Kentucky University held a Veteran's Day ceremony in the center of campus in front of the Guthrie Bell tower Wednesday morning.
The ceremony was a day to honor those who have served our country and honor their sacrifice, according to WKU President Timothy Caboni.
The base of the Guthrie Bell Tower  has etchings of many local veterans including WKU alumni Bob Ward, a retired WKU professor who served in the Korean War, Bob Kirby who served in the Korean War, World War II veteran and former WKU president Dero Downing and Vietnam War veteran Wendell Strode.
"Today we gather to honor the heroes who answered the call to defend our freedom, my freedom, your freedom, the freedom of all Americans and those to come," said Caboni.
The ceremony began with the presentation of colors by the WKU ROTC program students.
These ROTC students experienced a day they will remember surrounded by military veterans in the crowd around them, according to Lt. Col. Morgan Greene, professor of Military Science at WKU.
"Our alumni especially have paved the way for these cadets. They have shown the way for officer-ship, and service, and duty to our county. And it's good for the cadets to be able to connect with them and to see those that have gone before them and truly appreciate their sacrifice and their service especially as it foreshadows their future sacrifices," said Greene.
Greene said the ceremony was important and that honoring those who serve is the right thing to do.
"It's not easy. It sometimes can look glamorous in movies and the news but there is families that take a toll; husbands, wives, sons and daughter that miss birthdays, miss holidays. And it's difficult jobs in often dusty and dirty places. It's just right to give thanks to those who sign up and say, 'here I am. I will serve,'" said Greene.
The Guthrie Bell Tower was named after Sergeant first class Robert Guthrie who was killed in the Korean War.
"It's my hope that all who pass by this bell tower at the center of our campus and all those who hear its carillon are reminded of those individuals who dedicated themselves to fight for our freedom and for our nation. But, as always, thank them for their courage, thank them for our freedom and remember them for their sacrifices," said Caboni.