Truck plows through Glasgow building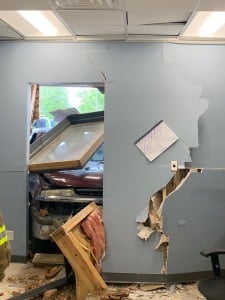 GLASGOW, Ky. – This morning, a truck rammed the front of an office in Glasgow, landing right in the middle of someone's office.
Glasgow police and fire departments were called to a medical office on Professional Park Drive Wednesday morning after a full size pick up truck plowed through the front of the building, according to GPD Major Terry Flatt.
The truck took out a front wall of the office of Interventional Pain Specialists.
Glasgow Major Terry Flatt said one woman was extremely lucky she had just left the room when the truck crash through the wall.
"Officers on the scene were advised that the young lady that works in that office area where the vehicle struck had just got up and went to take a break and fortunately no one was in the room when the vehicle struck that part of the building so no injuries were reported at that time," said Flatt.
The truck's driver and a passenger were taken to a local hospital for treatment of non life-threatening injuries.
"The male subject did, he was assisted to the ambulance, but he did walk to the ambulance. The female passenger was taken from the vehicle by stretcher and put into the ambulance," said Flatt.
Flatt says the man told police he had a medical emergency and may have passed out causing the crash.
Servpro was on the scene later helping repair the damage.
Michael Witcher, the reconstruction manager for Servpro, says these kinds of situations are hard to see happen, but he is thankful everyone is going to be okay.
"We get an opportunity to help others and to show some empathy and to be there to help. To not just make it a job or to make money out of the whole situation, but we are there to help the situation and get people through the crisis they are in," said Witcher.
WNKY attempted to speak to the business, but they refused to comment on the situation.