Senior Elizabeth Lyons receives Lee Robertson Scholarship at WKU
Courtesy WKU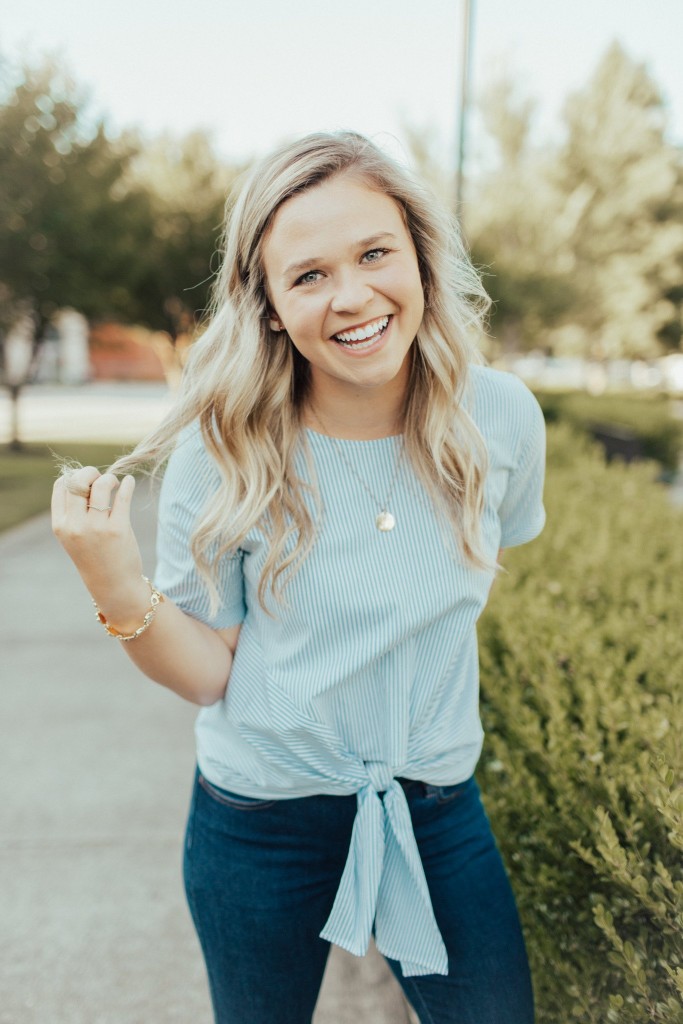 A Western Kentucky University senior from Danville, Ky., has been named the recipient of the annual Lee Robertson Scholarship.
Elizabeth Lyons, who is majoring in Biology and Communication Studies with a Pre-Medicine concentration, earned the $500 award designated for an upper-class student at WKU who exemplifies the WKU Spirit. The award is presented in honor of Lee Robertson and administered by the WKU Alumni Association.
Known by Hilltoppers as "Mr. Western" in recognition of his 60-plus-year relationship with the University, Robertson celebrated his 98th birthday on June 16. He currently serves as Special Assistant to the Vice President of Philanthropy and Alumni Engagement at WKU, but his WKU legacy spans his time as a student, Director of Alumni Affairs and Placement Services, Director of the WKU Glasgow Campus and a six-year stint as Men's Golf Coach.
"'The Spirit Makes the Master' is about the people," Robertson once noted. "It comes from people. When I think of Western, I immediately think of all that Western has done for me."
"Elizabeth was selected for this award because of the commitment she has demonstrated during her years as a Hilltopper," said Allie Sharp, Coordinator of Student & Young Alumni Engagement. "Through her work on the Hill and the message she wrote via her essay, it was evident she is passionate about WKU and the Spirit that lives here."
During her time at WKU, Lyons has shared the WKU Spirit as a Spirit Master, a member of the WKU Honors College and President of Alpha Delta Pi sorority. She has also studied abroad, is a member of Order of Omega and has been involved with fundraising for St. Jude Children's Research Hospital.
As part of the application process, Lyons was required to submit a letter and essay on what the WKU Spirit means to her. During her M.A.S.T.E.R. Plan experience, Lyons learned that her mother had passed away after fighting cancer for four years. Her father, who had driven to campus to share the news, encouraged Lyons to stay for the famous class photo on the football field to get her mind off things for the night.
"I was completely heartbroken and knowing I was about to spend the hardest time of my life two hours away from home made the news even more unbearable," she said. "I remember sitting in the stands, looking around and thinking that these were the people I would spend the next four years of my life with. This was going to be my support system. I was overcome with emotion that night, but friends, hall mates and R.A.s (resident assistants) showered me with more love in the following weeks than I ever could have imagined. People I had only known for a few hours became the support system I desperately needed. They became my family away from home."
As a Spirit Master, Lyons' experience came full circle when she was selected to speak to the Class of 2023 during the 2019 M.A.S.T.E.R. Plan activities.
"When I was speaking at M.A.S.T.E.R. Plan, I was looking at the excited, exhausted and nervous faces of the students," she said. "I had no idea what their past or future was, just like the speaker at my M.A.S.T.E.R. plan didn't know what had happened to me just a few hours before. What I did know was that their experience at WKU would be full of love, support and guidance. After all, that's what family is all about.
"During my time at WKU, I have realized that things will constantly change around us—the classes, the layout of campus, the success of our football team and even the Cherry Blossoms—but one thing remains constant: the people. The atmosphere that is created by every individual who steps foot on this campus is what makes this campus special. The motto 'The Spirit Makes the Master' embodies the energy and love that runs through hearts of all those before us, all those with us and all those behind us."