Local Good Samaritans feed the hungry with their own money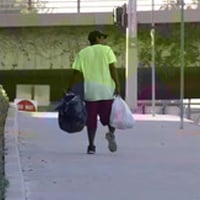 BOWLING GREEN, Ky. – Every Monday, Adam McCoy feeds the hungry around the Bowling Green Towers. For two years, Adam has paid for, cooked, and served food for those in need. 
He says The Salvation Army also helps out the less fortunate, but where they provide mostly sack lunches, he uses his cooking skills to prepare home cooked meals.
Erisha Talley also feeds the hungry two Sundays a month, and like Adam, she volunteers her own time and money preparing meals. Erisha says the turnout only grows each week, but every plateful is worth the work.
She says when she started serving with her organization "The Humble Heart Project," they were only able to feed 20 people. Now they are able to feed around 50, but they want to do so much more.
While Adam and Erisha do not rely on donations or volunteers, they thankfully accept the help they can receive.
To reach out to Adam and Erisha to see how you can volunteer your time or services to feed the homeless, click here and here.