Live music and fireworks at Skyline drive-in theater July 4
Courtesy Green River Live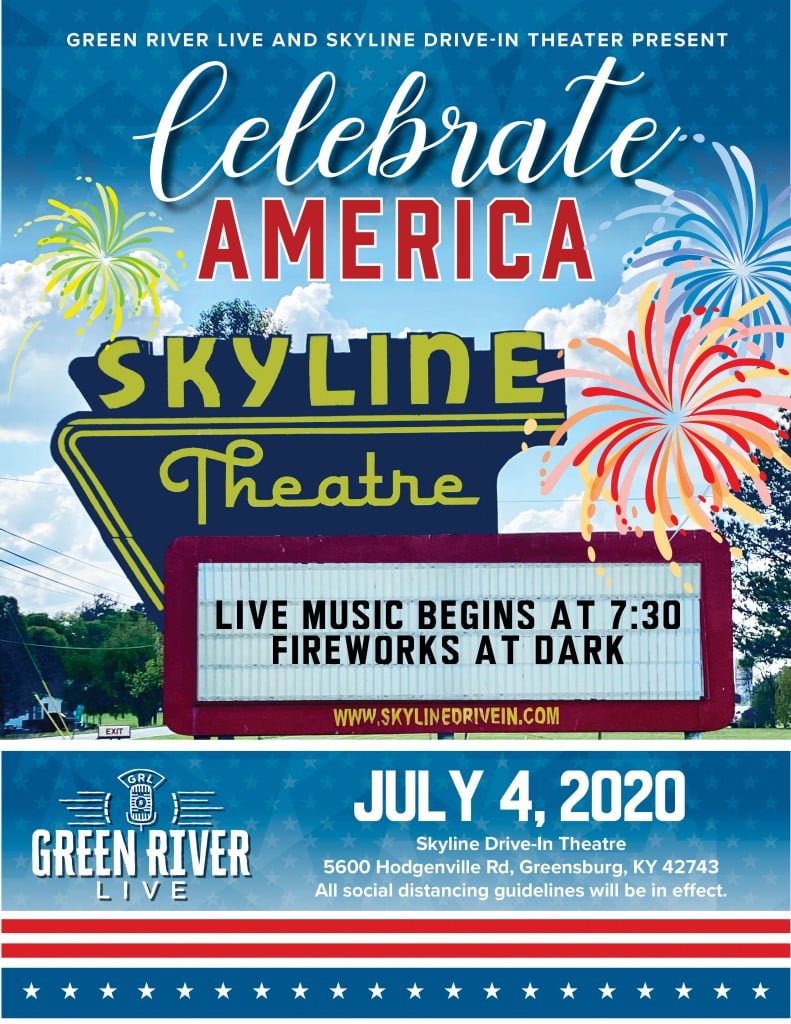 Green River Live and Skyline Drive-In Theatre presents "CELEBRATE AMERICA" on July 4; a family event with live music and fireworks while practicing social distancing guidelines.
At "Celebrate America" families will pull into the drive-in to the Skyline Drive-In Theatre located at 5600 Hodgenville Rd, Greensburg, KY 42743 entrance, purchase a ticket on site for $15.00 per person, 10 and under are $5.00 per child, park and take in the live music and fireworks. Gates open at 5 PM EST on the day of the event.
The music will begin around 7:30 PM onstage under the big screen while families stay in their cars and enjoy a night of music under the stars. Then at dark, keep your eyes on the sky to watch the fireworks display.
The owners and management of Green River Live felt bringing music and fireworks to celebrate our nations birthday in our community while practicing safe distancing was important.
"We love our country and our community and partnering with our friends at The Skyline Drive-In Theatre worked out great and quickly fell into place," according to Green River Live Owners. "We are both Kentucky businesses and we're featuring a Kentucky Band. Wild River Band, a five-piece group of guys that have played together for years in venues around Eastern Kentucky will perform your favorite country and rock-n-roll."
We encourage patrons attending the event to please bring a non-perishable food item to help restock the Green County Food Pantry. Due to the demand during these trying times, the Green County Food Pantry is running low on supplies. Donations for restocking the pantry will be accepted at the entry point. Our goal is to "Cram The Cruiser" which will be on site at the event
Celebrate America has been made possible by our generous sponsors:
𝐌𝐚𝐬𝐭𝐞𝐫𝐬𝐞𝐚𝐥 𝐒𝐭𝐫𝐢𝐩𝐢𝐧𝐠 𝐈𝐧𝐜 – Greensburg and Russell Springs, KY
G𝐫𝐚𝐡𝐚𝐦 𝐈𝐦𝐩𝐥𝐞𝐦𝐞𝐧𝐭 𝐂𝐨𝐦𝐩𝐚𝐧𝐲 – Summersville, KY
H𝐚𝐥𝐥'𝐬 𝐈𝐦𝐩𝐫𝐨𝐯𝐞𝐦𝐞𝐧𝐭 – Green County
𝐃𝐢𝐥𝐞 𝐑𝐞𝐚𝐥𝐢𝐭𝐲 – Summersville, KY
𝐇𝐞𝐚𝐥𝐭𝐡 𝐅𝐢𝐫𝐬𝐭 𝐏𝐡𝐚𝐫𝐦𝐚𝐜𝐲 – Greensburg, KY
𝐅𝐨𝐫𝐜𝐡𝐭 𝐁𝐚𝐧𝐤 – Greensburg, KY
𝐒𝐪𝐮𝐢𝐫𝐞𝐬 & 𝐋𝐞𝐞, 𝐂𝐏𝐀 – Campbellsville, KY
𝗧𝗮𝐫𝘁𝗲𝗿 𝗚𝗮𝘁𝗲 𝗖𝗼𝗺𝗽𝗮𝗻𝘆 – Dunnville, KY
𝐃𝐢𝐫𝐭 𝐚𝐧𝐝 𝐑𝐨𝐜𝐤 𝐇𝐚𝐮𝐥𝐢𝐧𝐠 – Buck Henderson