Coronavirus workgroup urges public and businesses to take virus seriously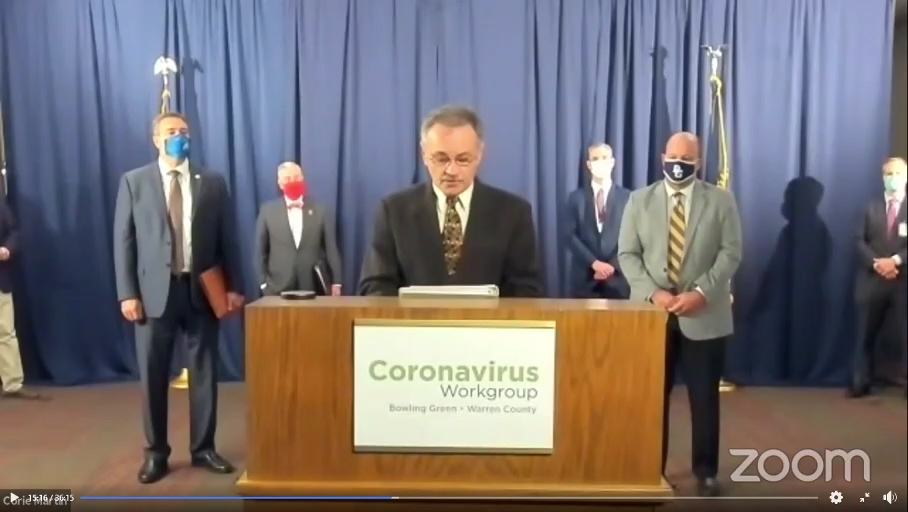 BOWLING GREEN, Ky.- This afternoon the Bowling Green-Warren County Coronavirus Workgroup held a virtual press conference for community leaders to speak about the recent increase in coronavirus cases and the impact it is having on the community. 
Warren County is currently facing the highest daily numbers of COVID-19 yet during the pandemic. On Wednesday, the state logged 2,700 new cases for the day. 
"This is not a joke and it's not political. It's a matter of health and safety for our citizens," said Warren County Judge-Executive Mike Buchanon. 
The press conference was live streamed from the Med Center Health's Facebook page. Speakers urged the public to enforce wearing a mask, social distancing and practicing health and safety measures. They specifically called out businesses to enforce masks and said that if they're not enforcing them, they are only hurting their customers and employees. 
"Today, I'm here to ask you again. We must be vigilant and limit those contacts. And stop social gatherings that would cause the spread of this disease. We must wear the mask anytime we leave our homes. It's still possible to turn the tide and bring these cases to a manageable level. But the time to act is short and the time to act is now," said Bowling Green Mayor Bruce Wilkerson. 
School district officials said they aren't seeing much spread in the actual schools but are being impacted by the number of children and staff having to quarantine based on contact outside of schools. 
Western Kentucky University President Timothy Caboni said they have had no transmission within structural settings on campus. He also said based on data that students are likely safer on campus than off campus. 
SKYCTC is prepared to go completely remote if they have to. They said they're strictly enforcing CDC guidelines and all cases from students or staff so far have been contracted from outside sources. 
Buchanon said the city and council have been meeting about enforcement locally and are taking steps to work out the details here for compliance with businesses.