Bevin promotes school choice with US education secretary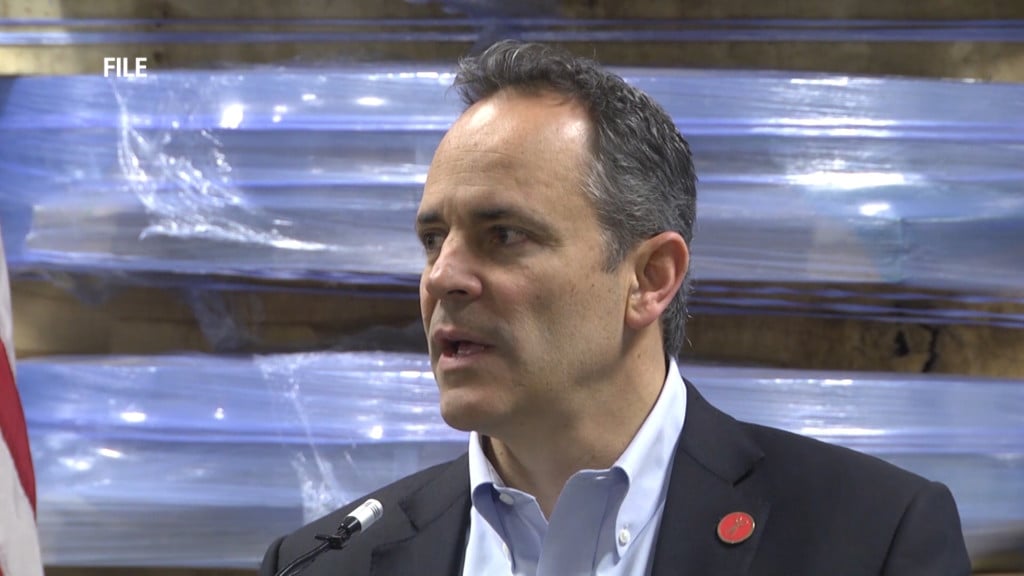 LEXINGTON, Ky. (AP) — The Trump administration's top education official on Wednesday urged school choice supporters in Kentucky — a coalition that includes the state's Republican governor — to "keep fighting" for initiatives aimed at giving students more flexibility to find their right fit.
Education Secretary Betsy DeVos teamed with Gov. Matt Bevin to promote school choice policies in a state where political activism has surged among public school teachers who have staged statehouse rallies to challenge pension and education proposals.
One proposal backed by school choice advocates would award tax credits to people who donate to scholarship funds for special needs children and those in foster care or low- to middle-income homes to attend private schools. The bill died during this year's legislative session in Kentucky.
"I know you've had a few frustrations," DeVos said during a roundtable discussion with Bevin that included other school choice supporters. "I just want to encourage you to keep at it and keep fighting."
An education group criticized the event, noting that public school advocates lacked a voice at the event.
The Kentucky Education Association, which represents tens of thousands of teachers, said on twitter that "public schools in KY are doing transformative & innovative things with less funding. We don't need vouchers, we need full funding."
Critics of the scholarship tax credit proposal in Kentucky have said it would divert money away from public education. An analysis by the Legislative Research Commission found it would cost the state $209 million in tax revenue by 2025.
Kentucky teachers have used sick days to close schools in protest of education bills. Bevin said last month that teachers who called in sick were "walking out on students, leaving them in the lurch." The protests were part of a wave of teacher activism across the country that began last year in West Virginia and spread to other states, including Oklahoma and Arizona.
Bevin, who is seeking reelection this year, praised scholarship tax credits Wednesday as a way to offer broader educational opportunities for students who otherwise wouldn't have them. The amount of tax credits awarded would be small compared to the benefits of producing more students prepared to become productive workers, the governor said.
"It's hard for me to believe that — in any way, shape or form — such a thing could be controversial," he said during the event in Lexington.
A group of Democratic state lawmakers also criticized the event for its limited participation.
The lawmakers said in a statement that "any meeting with Secretary DeVos must include discussions about why she so strongly supports educational choice and how that threatens public education across the nation."
Bevin was asked afterward about the lack of representation from public schools at the event.
"The people here care about the kids," Bevin replied. "Every single person who sat around this table cares about the children — not about funding, not about territory, not about power, not about politics."
During her Kentucky visit, DeVos also touted a federal scholarship tax credit proposal being pushed by the Trump administration.
The proposal would provide $5 billion a year in federal tax credits for donations made to groups offering scholarships for private schools, apprenticeships and other educational programs. The plan, called the Education Freedom Scholarships and Opportunity Act, would allow states to set their own rules around the credits, including which students are eligible for scholarships and where they could be used.
"The possibilities are really limitless," DeVos said. "And it would be entirely up to each state to determine what would be the right solution and the right approach for each state."
The plan has run into considerable resistance from congressional Democrats. DeVos acknowledged Wednesday that the plan's supporters "have a ways to go" to pick up enough support to pass it.
DeVos was the latest Trump administration official to hold an election-year event with Bevin in Kentucky. Bevin is seeking a second term this year. His GOP challengers in the May 21 primary are state Rep. Robert Goforth, William Woods and Ike Lawrence.
Bevin is an outspoken supporter of President Donald Trump. Bevin has also had appearances this year with Ivanka Trump, Transportation Secretary Elaine Chao, EPA Administrator Andrew Wheeler and drug czar Jim Carroll. Vice President Mike Pence campaigned for Bevin in March.