WKU Volleyball adds three newcomers on NSD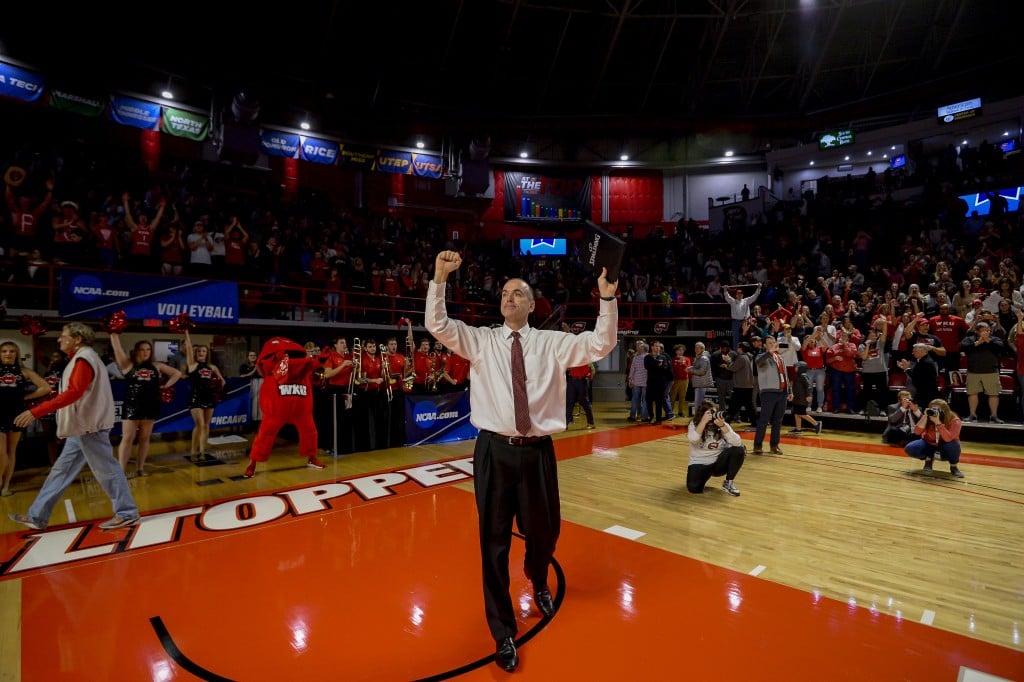 Courtesy – WKU Athletics
BOWLING GREEN, Ky. – WKU Volleyball head coach Travis Hudson and his staff have announced the signing of three prep standouts to National Letters of Intent. The trio, comprised of Callie Bauer, Kelsey Brangers and Kenadee Coyle, will arrive on The Hill next fall ready to make an impact in the program.
"This group is going to help us in a lot of areas," Hudson said of the trio of signees. "They're filling a lot of needs depth-wise on our team, and I think all of them are future factors in our program. We're excited; they're really talented volleyball players and even better people, so we feel like they'll fit our culture very well."
"I think just potential is the word that comes to mind," stated Hudson when asked what excites him most about the class. "None of them are necessarily finished products and that's kind of always been one of the hallmarks for this program, is kids coming here and they develop, get better. The talent that these three bring in the door if that trend continues, where they walk in the door and work and continue to get better, then I think you're going to see some really exciting players in those WKU uniforms down the line."
CALLIE BAUER // HUDSON, MICH. // HUDSON H.S. // SETTER
Callie Bauer, a native of Hudson, Mich., played her high school career at Hudson High School and is the two-time defending County Player of the Year in her area with the award yet to be given in 2020.
Just recently, Bauer and the Hudson Tigers clinched the district championships. Bauer averaged 26.33 kills per match through district play combined with 17.33 digs per match. In 2019 as a junior, Bauer led Hudson H.S. to a district and regional championship – the team's first district championship since 1997.
Additionally, she was recognized on PrepDig's top-10 2021 setters in Michigan list. Bauer earned first team MHSAA All-State selection as both a sophomore and junior. Bauer reeled in first team All-Region for the first three years of her prep career while also earning First Team All-County and All-League those seasons (2017-19) as well. Bauer has landed on the All-County Tournament Team all four years at Hudson H.S. As a sophomore, she earned a spot on the MaxPreps pre-season All-American prep volleyball team – a list comprised of just 37 names.
Bauer is set to graduate in December 2020 after earning seven varsity letters across her career at Hudson High School. The 5'11 setter also lettered in basketball as a freshman and sophomore in addition to track and field for a season. Bauer is also a member of the National Honor Society and involved in her school's student council along with earning a spot on the All-State Academic Team.
The daughter of Jim and Tricia Bauer, Callie has an older sibling, Caiden. She intends to major in graphic design during her time on The Hill.
WKU HERO GROWING UP – "I didn't growing up, but the past few years, I've had great respect for Sophia Cerino – I loved her energy!" 
WHY SHE CHOSE WKU – "WKU is a hidden gem that I was incredibly lucky to come across. The campus, community and program left a lasting impression on me when I visited and it would be an honor to play under the unbelievably invested coaching staff."
HUDSON ON BAUER – "Callie is one of the most unique kids we've ever recruited here. We're bringing her here as a setter, and she's a very gifted player but is still pretty raw because she's an outsider hitter for her high school team. Amazingly, I think she just went over 2,000 career kills and is a finalist for Miss Volleyball in the state of Michigan, which is an incredible honor in that state. We think she has the raw potential to be one of the future elite setters in the country, and we're really, really excited to get to work with her." 
KELSEY BRANGERS // CECILIA, KY. // CENTRAL HARDIN H.S. // DEFENSIVE SPECIALIST
Kelsey Brangers, a native of Cecilia, Ky., played her prep volleyball at Central Hardin H.S. and helped the Lady Bruins to three state tournament appearances including a trip to the Elite Eight in 2017. She took over the varsity libero spot in seventh grade and has played a total of seven seasons on the varsity squad. Brangers is a six-time District All-Tournament Team honoree, five-time Region All-Tournament Team selection and has been named First-Team All-State twice. The 5'4" passer was named her respective region's Player of the Year in 2020 along with earning the Sophomore of the Year distinction in 2018.
Across her prep career, Brangers has racked up 363 aces, a 92.3 serve percentage, 2696 digs, 431 assists and 3799 service receptions. Brangers is a three-year Academic All-State honoree as well.
The daughter of Micky and Rebecca Brangers, Kelsey has two older siblings, Justin and Brittany. She intends to major in physical therapy upon her arrival on The Hill.
WKU HERO GROWING UP – Alyssa Cavanaugh 
WHY SHE CHOSE WKU – "I enjoy the coaching staff and players along with their commitment to me at a young age. Coach Hudson's commitment to WKU, his team and the community are very inspiring as well."
HUDSON ON BRANGERS – "Kelsey is a kid that we've probably had our eye on longer than anybody we've ever signed here. She's a kid that started coming to our team camp when she was still a middle schooler. If you look back, she was on the varsity team when she was in middle school, and she caught our eye with her natural feel for this game. We've obviously watched her develop over the years and have gotten to know her better and better. The game comes easy to her. She has great instincts, got great feel, and I think we'll certainly add to the long legacy of really high liberos that we've had in our program."
KENADEE COYLE // BLOOMINGTON, IND. // BLOOMINGTON H.S. SOUTH // RIGHT SIDE HITTER
Kenadee Coyle, a native of Bloomington, Ind., was a four-year volleyball letterwinner at Bloomington H.S. South. She departs as the school's all-time kills (1047) and blocks leader.
Coyle earned second team All-Conference honors as a freshman before hauling in first team recognition the next three seasons to cap off her career. She was tabbed an Indiana Junior Allstar followed by the Monroe County Player of the Year in 2020.
Outside of volleyball, Coyle is also involved in Dance Marathon and Peer Mediation at her school. In the classroom, the 6'1" lefty is an Academic All-State honoree.
The daughter of Neil and Amy Coyle, Kenadee has an older brother, Chance, who plays basketball at Southern Indiana where their father also played basketball. Coyle plans to major in biology on The Hill.
WHY SHE CHOSE WKU – "Coach Hudson and the team made me feel welcome and at home."
HUDSON ON COYLE – "Kenadee is a kid that I think has major, major upside as a player, too. She has a physicality that we haven't always had here on the right side. She's a lefty like Sophia Cerino, but she's a much more physical kid than Sophia was. I think Kenadee is going to be an incredible blocking presence for us as we continue to try to compete deeper and deeper into the NCAA Tournament. We understand that we have to be more physical and Kenadee is a big physical kid and really talented kid offensively. We think she'll be a really impactful player on the right side for us."