WKU Hilltoppers Outlast UAB to Reach Conference USA Title Game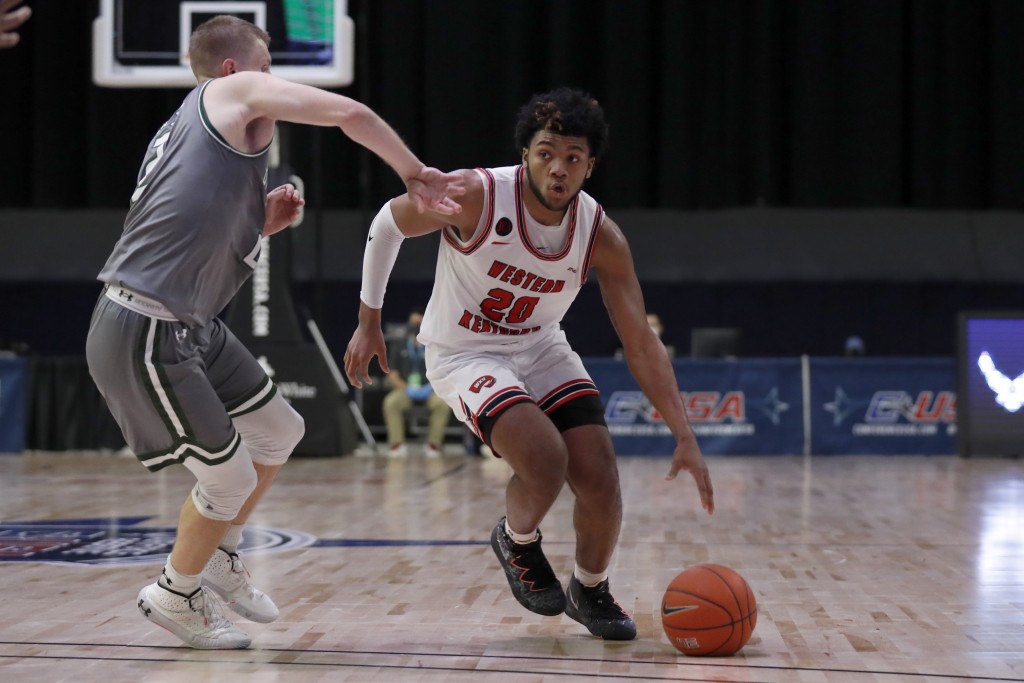 FRISCO, Texas — For the third straight time, WKU Hilltopper Basketball is going to the Conference USA Tournament championship game.
The Hilltoppers (20-6) rallied from a halftime deficit against UAB in Friday's semifinals, locking down defensively in the second half for a 64-60 victory.
WKU advances to face either North Texas or Louisiana Tech in the championship game at 8 p.m. CT Saturday on CBS Sports Network.
"It was a hard fought, physical game," WKU head coach Rick Stansbury said. "But I thought our guys, again, came out of that locker room and when we had to force our will on that other team, I thought we did it. … Again, our guys did a terrific job absorbing a quick scout. Got to the hotel at 9 o'clock last night, playing again at 11 in the morning. They absorbed it really well so those guys deserve a lot of credit for that. Can't get to the championship game if you don't win that second one. It's a three-game season, you've got to take them one at a time. Now we're down to one game."
WKU held UAB (22-7) to 34.5% shooting in the second half and a 2-for-8 effort from the 3-point line, while the Hilltoppers made 10 of 20 3-pointers themselves in the game.
Junior center Charles Bassey led all scorers with 22 points, seven rebounds and four blocks.
Freshman guard Dayvion McKnight rose to the occasion with 13 points, nine assists, four rebounds, three steals and two blocks.
"It's huge," McKnight said. "Coming in my freshman year and being able to be on this stage and be in the conference championship tomorrow is a big thing. It's huge for me."
Redshirt junior guard Luke Frampton and sophomore guard Jordan Rawls combined for 15 bench points on 5-for-10 3s.
UAB led for most of the first half and used a 6-0 run to open a 29-21 advantage with 3:52 left on a basket by Michael Ertel.
The Hilltoppers countered with an 8-0 spurt, tying the game at 31-all on a 3-pointer by Bassey with 1:16 to go.
The Blazers led 34-31 at the break, but after opening the second half with a basket, WKU held them scoreless for nearly five minutes.
That helped spark a 16-2 WKU run, which Bassey again capped with a hook shot and a 3-pointer to make it 47-38 with 11:40 remaining.
UAB didn't go away and ultimately cut WKU's lead to two at 54-52, but Frampton hit a dagger 3 from the corner to provide some cushion.
Ertel got the Blazers back within two at 62-60 with 1:27 to play, but McKnight came up with a high rebound and calmly sank two free throws to ice the victory.
Ertel paced UAB with 16 points.
The Hilltoppers have competed in the last three C-USA title games. They fell to Marshall and Old Dominion in 2018 and 2019, respectively, while the 2020 tournament was canceled due to the COVID-19 pandemic.
"This year, I feel like we've just experienced it," Bassey said. "We're going to come in tomorrow and be ready. We want to win, we want to play in (NCAA) March Madness®. The team we're going to play tomorrow, they're going to want to win too. It's going to be a dog fight so we've just got to come in tomorrow ready and get the win."