Tops' Bassey named to Kareem Abdul-Jabbar Center of the Year Award Watch List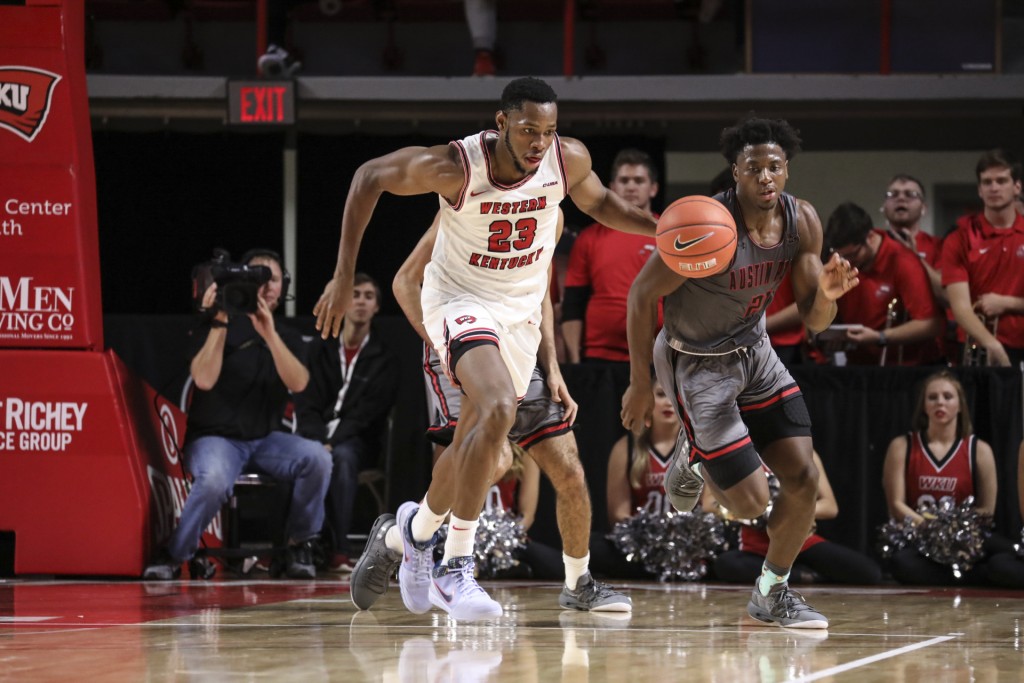 BOWLING GREEN, Ky. — WKU Hilltopper Basketball junior center Charles Bassey once again finds himself as one of 20 national watch list members for the 2021 Kareem Abdul-Jabbar Center of the Year Award, as announced Friday by the Naismith Memorial Basketball Hall of Fame.
Named after Class of 1995 Hall of Famer and three-time NCAA Champion Kareem Abdul-Jabbar, the annual honor in its seventh year recognizes the top centers in men's college basketball. A national committee comprising top college basketball personnel determined the watch list of 20 candidates.
Bassey was named to the Kareem Award watch list last season before his sophomore campaign was cut short after just 10 games by a season-ending leg injury. He was a top-five finalist for the 2019 Kareem Abdul-Jabbar Award, and one of four freshmen to be named a finalist in the award's existence.
Bassey – a 6-foot-11, 235-pound native of Lagos, Nigeria – has been named a Preseason Second-Team All-American by Lindy's Sports Magazine. He'll enter this season as the nation's active leader in career rebounding average (9.8 boards per game).
Last season, he averaged 15.3 points, 9.2 rebounds, 1.3 assists and 1.2 blocks in 10 games last season before suffering a tibial plateau fracture in his left leg against Arkansas on Dec. 7.
Bassey had successful season-ending surgery in Houston on Dec. 10, began rehab immediately and was cleared to resume full contact activities in September.
Last season, Bassey was also selected to the preseason watch lists for the Naismith Trophy, the John R. Wooden Award and the Oscar Robertson Trophy, the most prestigious National Player of the Year honors in the country.
As a freshman, Bassey averaged 14.6 points, 10 rebounds, and 2.4 blocks while shooting 62.7 percent from the field. He was named a Freshman All-American in addition to being a Kareem Award top-five finalist.
Bassey became the second player in Conference USA history to win both C-USA Freshman of the Year and Defensive Player of the Year in the same season in 2019, and he was also named to the All-C-USA First Team, All-Freshman Team and All-Defensive Team.
In late January, the watch list of 20 players for the 2021 Kareem Abdul-Jabbar Center of the Year Award will be narrowed down to just 10. In late February, five finalists will be presented to Mr. Abdul-Jabbar and the Hall of Fame's selection committee.
The winner of the 2021 Kareem Abdul-Jabbar Award will be presented on Friday, April 9, along with the other four members of the Men's Starting Five. Additional awards being presented include the Bob Cousy Point Guard Award, the Jerry West Shooting Guard Award, the Julius Erving Small Forward Award and the Karl Malone Power Forward Award, in addition to the Women's Starting Five.
Previous winners of the Kareem Abdul-Jabbar Center of the Year Award include Luka Garza, Iowa (2020), Ethan Happ, Wisconsin (2019), Angel Delgado, Seton Hall (2018), Przemek Karnowski, Gonzaga (2017), Jakob Poeltl, Utah (2016) and Frank Kaminsky, Wisconsin (2015).
2021 Kareem Abdul-Jabbar Center of the Year Award Candidates*
Matt Haarms, BYU
Mark Williams, Duke
Kofi Cockburn, Illinois
Luka Garza, Iowa
Olivier Sarr, Kentucky
Ahsan Asadullah, Lipscomb
Cameron Krutwig, Loyola Chicago
Mousa Cisse, Memphis
Liam Robbins, Minnesota
Armando Bacot, North Carolina
Walker Kessler, North Carolina
Trevion Williams, Purdue
Grant Golden, Richmond
Evan Mobley, USC
Neemias Queta, Utah State
Jay Huff, Virginia
Derek Culver, West Virginia
Charles Bassey, Western Kentucky
Micah Potter, Wisconsin
Loudon Love, Wright State