College homework assignment on Beasley-Brown campaign draws rebuke from mayor, others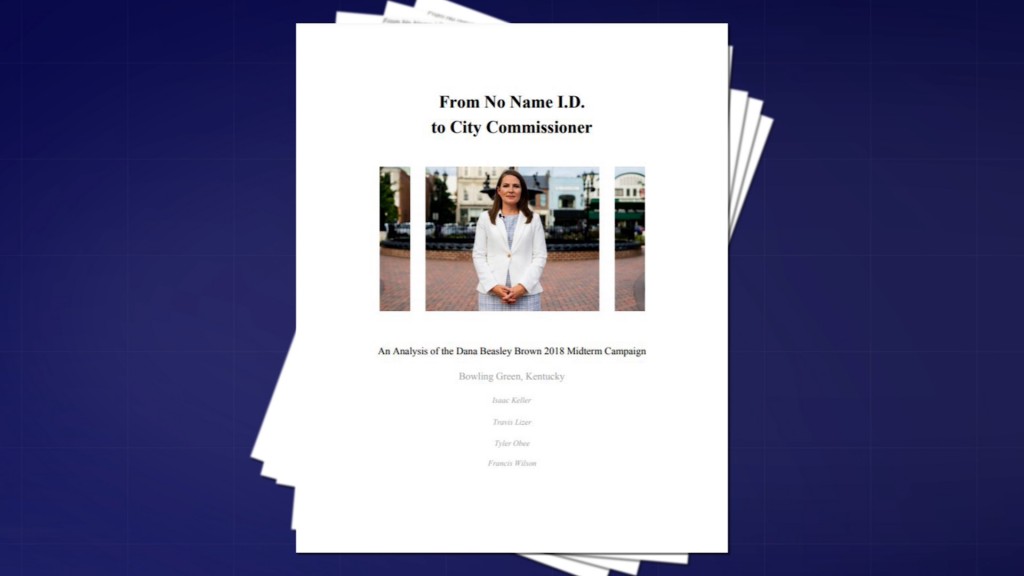 BOWLING GREEN, Ky. – A college homework assignment titled "From No Name ID To City Commissioner" that appears to break down Bowling Green City Commissioner Dana Beasley Brown's 2018 campaign strategy has drawn public criticism from another commissioner, the mayor and a city commission candidate who question Brown's campaign strategies as outlined in the paper.
That paper, written by college students two years ago, outlines Beasley-Brown's 2018 campaign in a 69-page analysis completed for an upper level political science class assignment at Western Kentucky University.
Bruce Wilkerson posted to his Facebook page some of the paper saying "to quote the essence of the campaign, 'Dana was also a very ideological candidate, while there was focus on being moderate in her core message, recruiting donors often involved Dana expressing her more left viewpoints. Dana, …, would harp on 'radical' viewpoints that were applicable to the potential donor, which would incentivize them to donate money to the campaign.'"
Beasley-Brown responded that she is open with her viewpoints.
"My positions are widely known. I do not hide them. I make every effort to be as transparent as possible," she said.
The city commissioner also says the paper doesn't represent her.
"The tactics in the paper were from textbooks, not my campaign," said Beasley-Brown.
Travis Lizer is one of the students who worked on the paper.
"I think we need to stop taking this paper so literally because again it was a college paper, and it was a homework assignment. This was not a document that we as a public official or any kind of legal professionals made and we were not paid and we were not consulted to run her campaign for her," said Lizer.
Beasley-Brown was unaware of the paper.
"I was not even aware that it existed because it is not a campaign document of mine," said Beasley-Brown.
Saundra Ardrey, a professor at Western Kentucky University, has been assigning projects like this for about a decade. The paper was written as an assignment in her class.
"None of the candidates have any input into this project," Ardrey said. "They don't know about the project, and if they do, it's just in passing. A lot of the information that students get comes from websites and from other sources. But they don't have anything to do with the strategy or the planning and if they do, they are there to observe. These are 18, 19 and 20-year-olds."
Wilkerson still believes the paper has significance.
"Whether volunteer or done for a class project it still reflects their views. But they're adults and if they allow a paper to be presented in that fashion, you have to expect that people will read it," said Wilkerson.
Bowling Green City Commissioner Sue Parrigin expressed concerns that at least one of the students involved in the project was paid.
Francis Wilson worked on the paper as well. Beasley-Brown said she paid him to be a videographer.
"Francis was, we hired him as private contractor. He has a video, photography company and so I hired him to help me create a video. But no, he wasn't employed by that campaign," said Beasley-Brown.
Bowling Green City Commissioner Sue Parrigin says that payment is part of her concern.
Parrigin released the following written statement:
"While I think the students obviously provided Dana with a successful campaign strategy in 2018 and according to the document at least one was paid for their services. What disturbs me most after reading the 69-page document were the partisan resources used in a non-partisan election as well as outside PACs contributing. For the current election PACS from Washington D.C., Louisville and London, Ky. have already contributed to Dana's re-election campaign. Citizens can go to the KY Registry of Election Finance website and see how all candidates' campaigns are financed. I do not want to summarize the document but do strongly feel it should be made available to the Citizens of Bowling Green to make their own determination. I have and will stand for ethics, transparency and accountability in local government. Thank you."
Beasley-Brown's election finance records reflect she did not receive a donation from a PAC in London, Ky. A group from London Ky., unrelated to Beasley-Brown's campaign, sent out a mailer supporting her and other candidates.
"The donations Sue refers to are from local unions from the men and women who worked tirelessly over the course of the pandemic to keep our grocery stores filled so we did not run out of basic necessities during a national crisis," Beasley Brown said. "Like any local chapter of a larger organization, their bank account may be held at the state or national level. That is why some checks may say Louisville or D.C. for the address of the bank account. I am proud to have earned the support from Bowling Green's essential workers who worked hard for every cent."
"It's crazy to me that someone would try to paint me as something other than who I am and the record that I have made the last two years and my work in the community over the last decade and a half," said Beasley-Brown.
Another Bowling Green City Commissioner candidate posted about the students' paper on his Facebook page, but has not responded with any statement at this time.
NOTE: This story has been updated fro a previous version to include Beasley-Brown's response to Parrigin's statement.