Bassey scores 27 points, leads WKU to huge road win vs Alabama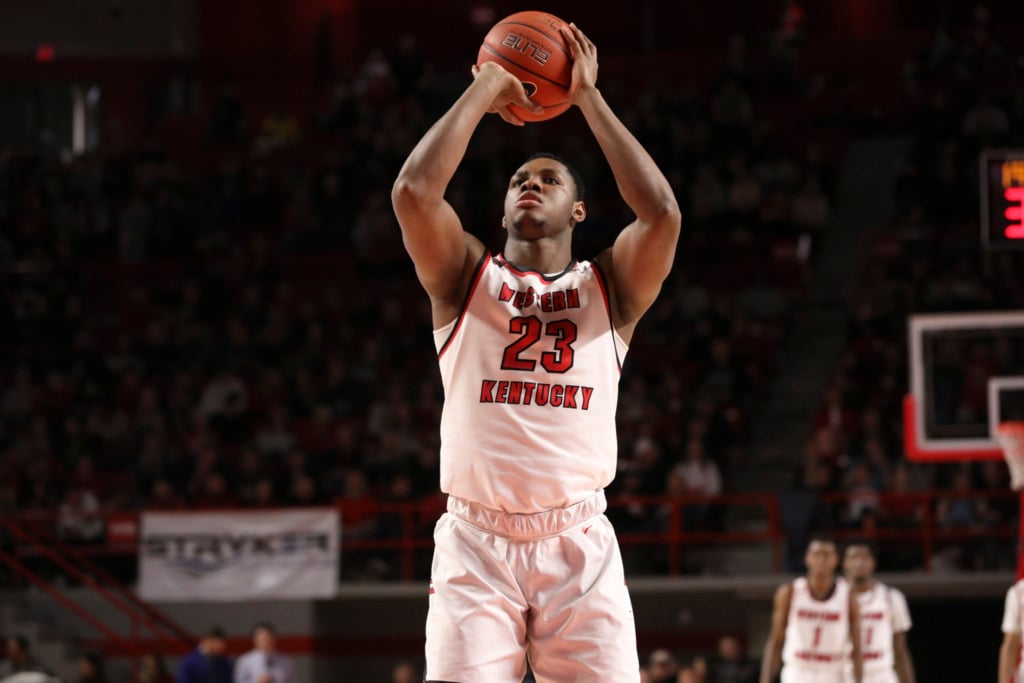 Courtesy – WKU Athletics
TUSCALOOSA, Ala. — WKU Hilltopper Basketball had to overcome foul trouble and a deficit in the final minutes, but the Hilltoppers made clutch plays to pull out a 73-71 road victory at Alabama on Saturday.
Alabama only led for five minutes, but the Crimson Tide managed to build a 70-67 lead with 2:10 to go.
WKU sophomore guard Jordan Rawls responded with four straight free throws, and junior center Charles Bassey broke a 71-71 stalemate with the winning basket on a goaltend with 26 seconds to play.
"When you go on the road and win, you've got to have some toughness and some grit and some togetherness about you," WKU head coach Rick Stansbury said. "That was going to be the difference in that game. At halftime, it was basically a tie game, we were up one. No longer is it going to be a 40-minute game, it's a 20-minute game. It's that team that came out of that locker room and imposed their will. Again, it's not easy to impose your will on the road. It's not easy. We only had to do it for 20 more minutes… Great, gusty tough effort. Great team effort. Like I said, guys came off that bench and added to."
Bassey finished with 27 points and 12 rebounds – as well as his second game-winning basket in as many games – while Rawls added a career-high 20 points off the bench.
The victory improves WKU to 9-6 against Power Five competition since 2017-18, as well as 4-1 in its last five games against SEC opponents.
"We knew coming here was going to be tough," Bassey said. "We knew it wasn't going to be easy, but we kept our cool and we just played the game from the first half through second half and got the win. Coach said, there's no game this year that's going to be easy. Every game is going to be tough so we've just got to be ready and play."
The Hilltoppers' backcourt was hampered by foul trouble, with senior guards Taveion Hollingsworth and Kenny Cooper playing just 24 combined minutes between them.
They played just seven total minutes in the first half, but Rawls stepped up with the last two baskets of the half, including a putback with 12 seconds left to put the Hilltoppers in front 33-32 at the break.
WKU (6-2) built its largest lead of the second half at 67-62 with 5:30 left on a bucket by Bassey, but Alabama (4-3) went on an 8-0 run and led 70-67 on a putback by Herbert Jones with 2:10 remaining.
Rawls calmly drew two fouls and sank four free throws to put WKU back in front, and after one free throw by Alabama, Bassey pulled down an offensive rebound on a missed shot by senior guard Josh Anderson, went back up and got the basket on a goaltend.
The Crimson Tide couldn't score on the other end, and the Hilltoppers were able to run out the clock to secure the victory.
"I'm just trying to be aggressive when I come off the bench, really that's all," Rawls said. "Get in the lane, carry it for other people, draw fouls, and I think I did that pretty well tonight."
WKU held Alabama to 36.7% shooting and forced 19 turnovers, which it turned into 21 points.
The Hilltoppers also outrebounded the Tide 38-35 and won the points in the paint 42-28.
Anderson added six points to WKU's cause. Freshman guard Dayvion McKnight had four points, six assists and five rebounds.
Jones paced Alabama with 16 points.
The Hilltoppers will finish non-conference play at home against Tennessee Tech at 6 p.m. CT Tuesday at E.A. Diddle Arena. The game will air on ESPNU.