Woman accused of stabbing husband with scissors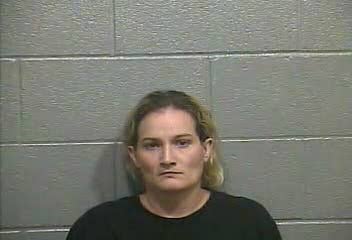 GLASGOW, Ky. – A Glasgow woman is accused of stabbing her husband with a pair of scissors and will be arraigned Monday in Barren District Court.
Glasgow police were called Wednesday to 515 West Front Street and upon arrival saw Paul Runyon who had blood on his shirt near his left abdominal area. He has two bleeding wounds. Brandie Runyon run out of the side door of the home holding a pair of scissors, according to Brandie Runyon's arrest citation.
Police told Brandie Runyon to drop the scissors. Paul Runyon told police the two had been arguing when he took her bags and threw them outside, according to the citation. Brandie Runyon picked up her bags and dropped a pill bottle out of the bag. When Paul Runyon picked up the pill bottle , he told police that's when his wife stabbed him, according to her citation.
Paul Runyon then called 911 and Brandie Runyon went into her bedroom to gather her things. Brandie Runyon said she hit her husband in the stomach because he lunged at her when he came into the room. She said she didn't mean to stab him but had scissors in her hand, according to her citation.
Brandie Runyon was charged with second-degree assault – domestic violence.