WNKY 40 to broadcast three Titans preseason games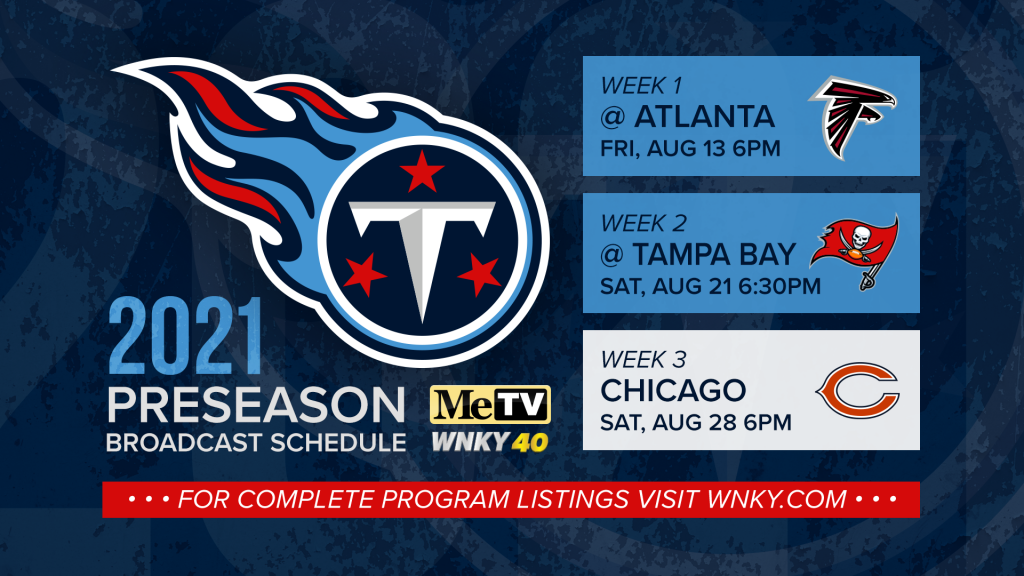 BOWLING GREEN, Ky. – WNKY 40 Television, in partnership with WKRN in Nashville, has announced that it will be South Central Kentucky's broadcast television home of the Tennessee Titans 2021 preseason schedule.
The three-game schedule will air exclusively on WNKY MeTV 40 in the South Central Kentucky viewing area.
WNKY 40 Television has exclusively broadcasted Tennessee Titans preseason games since 2017. The 2020 NFL Preseason schedule was cancelled due to the COVID-19 pandemic.
According to WNKY 40 General Manager Julie Milam, the decision to broadcast Titans preseason games locally is an easy one.
"Our viewers give us incredible feedback each NFL season. One common thread is that they want more Titans games on our schedule. Partnering with WKRN to bring Tennessee Titans football to South Central Kentucky each season will allow our viewers to watch the Titans in action right out of the gate. We hope to make this a staple of our NFL broadcast schedule for many years to come."
In addition to the Titans 2021 preseason schedule, WNKY 40 Television is scheduled to broadcast fifteen Titans regular season matchups across WNKY CBS 40 and WNKY NBC 40.
NFL scheduling is subject to change.
Titans 2021 Preseason Schedule
Friday, August 13 | @ Atlanta | 6pm on WNKY MeTV 40
Saturday, August 21 | @ Tampa Bay | 6:30pm on WNKY MeTV 40
Saturday, August 28 | Chicago | 6pm on WNKY MeTV 40
For more information about the Tennessee Titans, visit www.tennesseetitans.com.