WKU's Bassey Named to Wooden Award's Top 25 List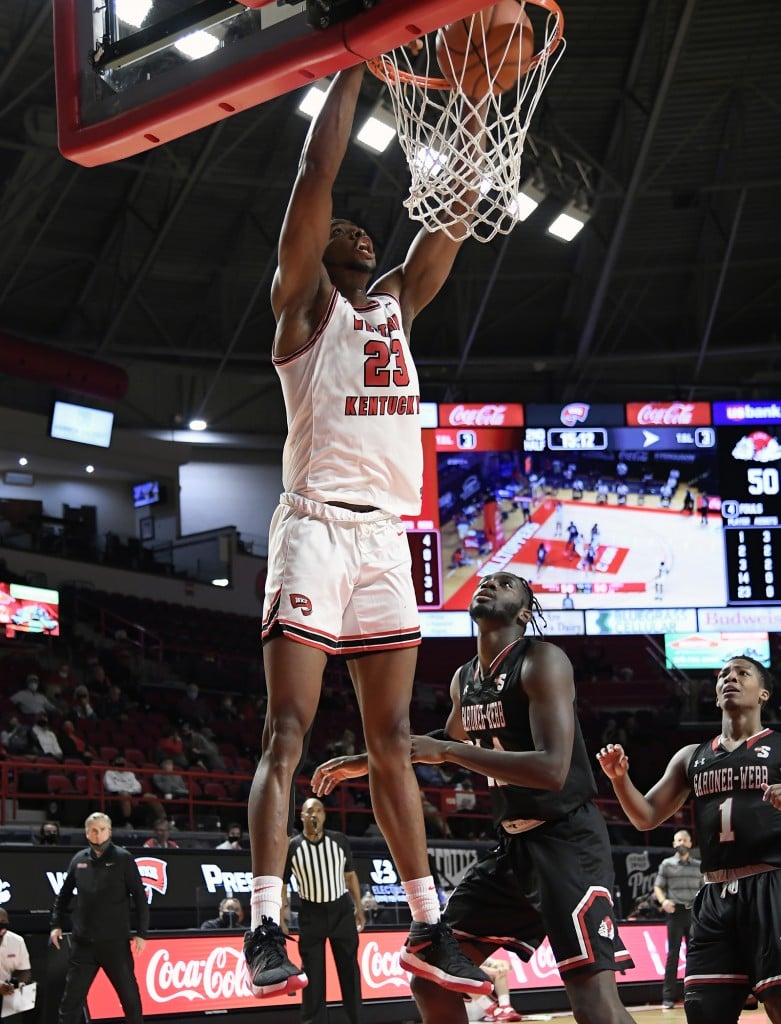 LOS ANGELES — WKU Hilltopper Basketball junior center Charles Bassey has been named to the John R. Wooden Award Midseason Top 25 Watch List, as announced today by the Los Angeles Athletic Club.
Chosen by a poll of national college basketball experts based on their performances during the 2020-21 season thus far, the list comprises of 25 student-athletes who are front-runners for the sport's most prestigious honor.
Bassey is one of five players on the midseason watch list from outside the Power Five or top-ranked Gonzaga.
The 6-foot-11 native of Lagos, Nigeria, is averaging 16.3 points, 11.1 rebounds and 3.2 blocks per game while shooting 60.7 for the Hilltoppers through 11 games this season.
As of Tuesday, Bassey leads the nation in dunks (30) and ranks fourth nationally in total blocks (32), fifth in total rebounds (111), fifth in double-doubles (6), ninth in blocked shots per game (3.2), 10th in total rebounds per game (11.1) and 12th in defensive rebounds per game (8.1). Only 99 programs in the nation have more blocks as a team than Bassey by himself.
He is also on the watch list for Naismith Trophy National Player of the Year and the Kareem Abdul-Jabbar National Center of the Year award.
The players on the Wooden midseason watch list are considered strong candidates for the 2021 John R. Wooden Award Men's Player of the Year presented by Wendy's. Players not chosen to the preseason or midseason list are still eligible for the Wooden Award National Ballot. The National Ballot consists of 15 top players who have proven to their universities that they meet or exceed the qualifications of the Wooden Award.
Nearly 1,000 voters will rank in order 10 of those 15 players when voting opens prior to the NCAA Tournament and will allow voters to take into consideration performance during early round games. The Wooden Award All American Team will be announced the week of the "Elite Eight" round of the NCAA Tournament. The winner of the 2021 John R. Wooden Award will be presented by Wendy's following the NCAA Tournament in April.
Bassey and the Hilltoppers open a home series with Louisiana Tech at 7 p.m. CT Friday at E.A. Diddle Arena.