WKU Women's Basketball: Former coach Sanderford named 2019 finalist for Women's Basketball Hall of Fame
Sanderford served as the Lady Tops head coach from 1982-1997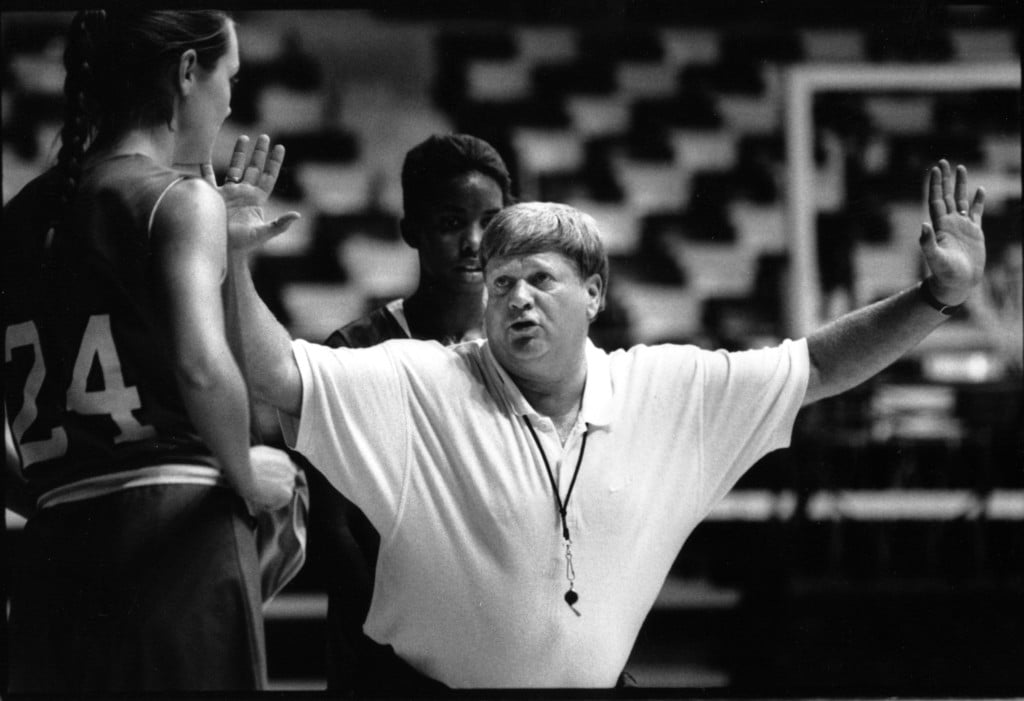 KNOXVILLE, Tenn. – Legendary Lady Topper Basketball head coach Paul Sanderford has been selected as one of 12 finalists for the Women's Basketball Hall of Fame as announced by the organization at halftime of the Louisville-Notre Dame contest on Thursday evening.
Sanderford, who served as the head coach of the Lady Toppers from 1982-83 until 1996-97, made three Final Four appearances at the helm of the program, including a national championship game appearance against Stanford to conclude the 1991-92 campaign. In total, Sanderford captured 365 victories and a .753 winning percentage across his 15 seasons as WKU's head coach.
The Lady Toppers won 15 NCAA Tournament games under Sanderford's direction, advancing to at least the Sweet Sixteen four times. WKU claimed five Sun Belt Conference regular season championships and seven league tournament titles under Sanderford, who earned Sun Belt Coach of the Year honors three times (1982-83, 1985-86 and 1990-91) while coaching seven different All-Americans.
Now retired from coaching, Sanderford regularly serves as the color analyst on WKU's television broadcasts, having called games on both Fox College Sports and the ESPN family of networks in recent seasons. He was inducted into the WKU Athletic Hall of Fame on Nov. 1, 2008, and was honored with a banner in the rafters of E.A. Diddle Arena bearing his name that was hung on Feb. 6, 2010.
Two prominent names have emerged from Sanderford's coaching tree since his time at WKU. Michelle Clark-Heard, a letterwinner for the Lady Toppers from 1987-90, returned to WKU on the sidelines from 2012-13 until 2017-18, helping to lead a resurgence of the program on the national stage with four NCAA appearances and the third-most victories for a head coach (154) in Lady Topper Basketball history, trailing only Sanderford and Mary Taylor Cowles. Clark-Heard is currently in her first season as the head coach at Cincinnati following her six successful seasons with the Lady Toppers.
Jeff Walz, who served as an assistant coach under Sanderford during his final season at WKU in 1996-97, is in his 12th season as the head coach at Louisville. Walz has posted a 313-96 record with the Cardinals and has reached three Final Fours, with national title game appearances in 2008-09 and 2012-13.
Clark-Heard and Walz, the two brightest stars of Sanderford's coaching tree, have combined for 14 NCAA appearances and exactly 500 victories as head coaches. Amy Williams, the current head coach at Nebraska and formerly at South Dakota, was also a player under Sanderford with the Cornhuskers in 1997-98.
Prior to his time at WKU, Sanderford enjoyed an outstanding stint as the head coach at Louisburg College in North Carolina. He was 163-19 in his six years as head coach of the program; he was named the Region X Coach of the Year for four consecutive years to end his stint at the school and was the named the Outstanding Coach at the National Tournament in 1981, the year he took his team to the title. In 1981-82, he was awarded the Wade Trophy, given annually to the national Junior College Coach of the Year.
Before beginning his head coaching career at Louisburg, he spent time at Methodist College in Fayetteville, N.C., playing baseball and basketball. During his collegiate career, he lettered one year in basketball and two years in baseball at Louisburg College before spending his final two years playing baseball at Methodist College. At Louisburg, he was an All-America selection in 1970. Sanderford holds an AA degree from Louisburg College (1970), a BA in Sociology from Methodist College (1972) and a MA in Guidance and Counseling from North Carolina State University (1976).
The Women's Basketball Hall of Fame Class of 2019 will be selected from the 12 finalists and announced, along with the 2019 Trailblazers of the Game Award recipient, on ESPN2 during the Feb. 4 Baylor-Texas game at 6 p.m. CT.