WKU Volleyball Announces 2021 Regular Season Schedule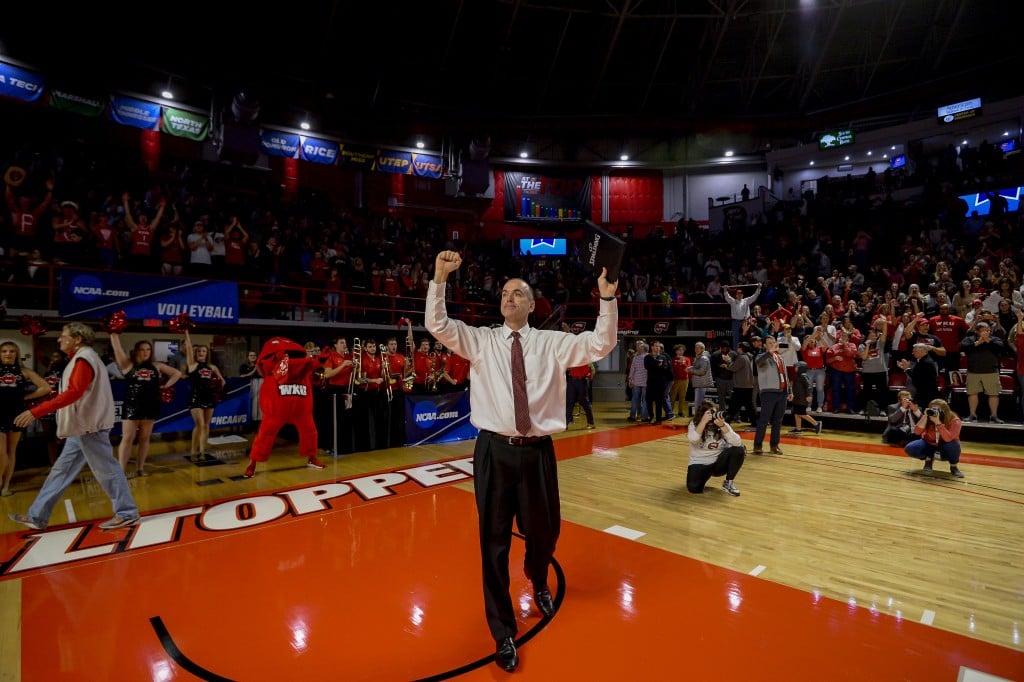 BOWLING GREEN, Ky. – Fresh off the best season in WKU Volleyball history, the Hilltoppers will face another challenging schedule this fall with four NCAA Tournament teams on the slate including hosting the reigning national champions for an exhibition. Travis Hudson and company are set to host 13 matches inside E.A. Diddle Arena in addition to a free exhibition against Kentucky. In total, the schedule includes 26 regular-season matches.
"We are excited to finally be releasing our 2021 schedule," shared Hudson. "We are looking forward to returning to more normal game times in the fall which will allow our fan base the opportunity to make a huge difference on game day. The momentum we have created over the last two seasons has this community excited for volleyball in a way that it never has been before. Diddle Arena will be an exciting, fun atmosphere that has the chance to be something very special for our players to experience and something very difficult for our opponents to compete in."
The Tops' first action against another team will come on Thursday, Aug. 19 when top-ranked Kentucky visits The Hill for an exhibition match.
Regular-season action will open in South Bend, Indiana, with matches against Oakland, Notre Dame and Loyola-Chicago. The Hilltoppers will host their first home match the following Tuesday when Belmont comes to town before heading back on the road down to Nashville, Tennessee. In Music City, the Red and White will face off against Lipscomb, Kansas and Wake Forest.
Beginning Sept. 10, the Hilltoppers will host eight-straight matches inside Diddle Arena including a pair of tournaments and their Conference USA opening series against Marshall.
Through WKU's first nine matches, the squad will face three NCAA Tournament teams (Notre Dame, Lipscomb and Samford) from last season and four Power Five programs.
Samford, Ole Miss and UT-Martin will all visit Bowling Green for the Holiday Inn – University Plaza Invitational from Sept. 10-11.
The following weekend, the Hilltoppers will host St. John's, Ohio and Austin Peay for the WKU Invitational. Lipscomb will also play matches at the event but WKU will not face the Bisons a second time.
Marshall will be in town Sept. 24-25 to close the Tops' homestand and open league play. C-USA will continue to utilize divisions during the 2021 season so the Hilltoppers will face each East Division squad twice.
WKU will open October with three matches on the road. First up, the Hilltoppers will head south for matches at FIU before visiting Eastern Kentucky for a midweek on Oct. 6.
Starting Oct. 15, Hudson and the Tops will alternate home and away series with Middle Tennessee (Oct. 15-16), at Florida Atlantic (Oct. 22-23), Old Dominion (Oct. 28-29) and at Charlotte (Nov. 5 and 7) to close the regular season.
Conference USA Tournament action will be hosted by Old Dominion from Nov. 19-21 in Norfolk, Virginia.