WKU Soccer: Gorham signs professional contract with Swedish club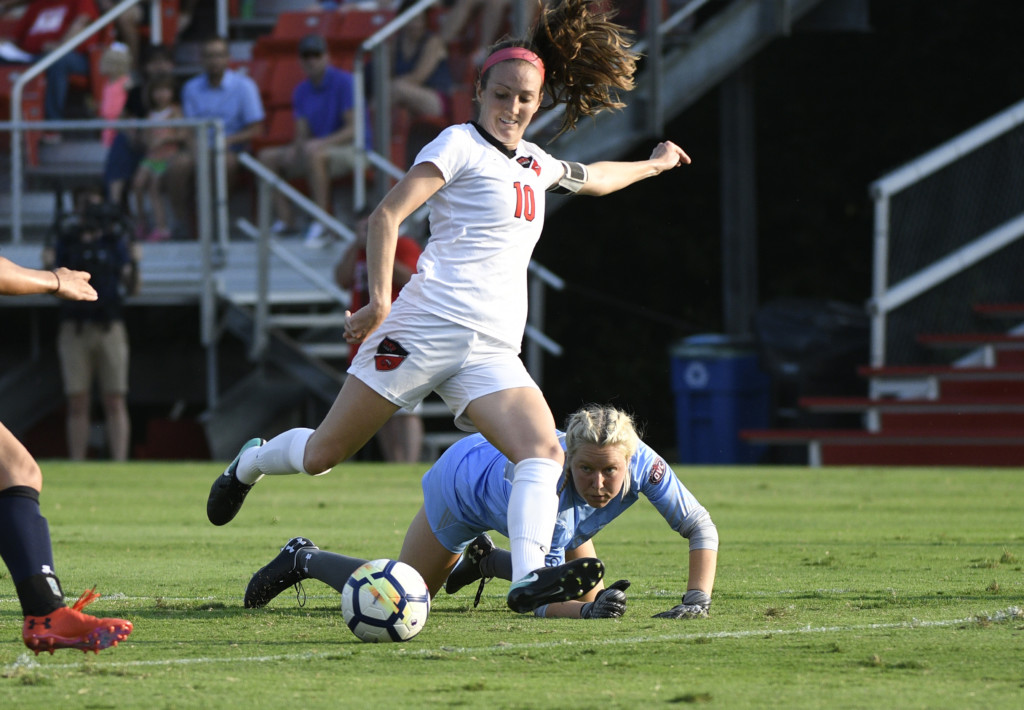 BOWLING GREEN, Ky. – Former WKU Soccer standout and Lexington native Sarah Gorham has inked a professional contract with Lidköpings FK of the Swedish Elitettan league and is set to begin her professional journey when the season begins in April.
"I am so grateful that I had the opportunity to play at WKU. Jason [Neidell], Dustin [Downey], and Will [Beddingfield] helped me grow into the player I am today and I cannot thank them enough. Being able to play five seasons with them and the WKU Soccer program was such a blessing. It is nice knowing that I will always have their support no matter where I go," Gorham said of her time with the Lady Toppers.
""We are incredibly excited for Sarah. This opportunity is a dream come true for her, and it couldn't happen to a better person. It shows that anything and everything is possible through hard work, passion, and a commitment to excellence – all of which describes Sarah's character," Neidell said of the midfielder. "While most of our student-athletes go professional in something other than soccer, Sarah's pro contract shows once again that WKU is a viable destination of choice for athletes who want to pursue professional playing careers after college. We find ourselves recruiting more and more players who have these same aspirations."
Gorham becomes the first field player to sign a professional contract after finishing her career with the Lady Toppers, joining former goalkeepers Nora Abolins and Libby Stout as WKU players who have advanced to the professional ranks.
Named WKU's Female Scholar-Athlete of the Year in 2017-18, Gorham capped her WKU career with a flourish as a redshirt senior, finishing with career bests in goals (six) and points (14). One of the most vocal leaders on the team, Gorham fired WKU's match-winning goals against Evansville, FIU and UTEP this season and was critical in WKU's 1-1 draw with then-No. 24 North Texas on Oct. 12, scoring for the Lady Toppers as WKU claimed its first point against the Mean Green since joining C-USA.
"Sarah's knee injury during the spring of her freshman year provided a significant catalyst for her career. Instead of viewing the injury as a setback, the adversity fueled Sarah's drive and commitment to the game. She came back stronger and smarter, and never looked back," Neidell said. "Her game seemed to grow and evolve almost daily here at WKU. Sarah had one of the best senior seasons of any player I have ever coached. She is compelled to be the best that she can be, and I am eager to watch her continued development from afar at the professional level. We also now have another great place to visit in Sweden!"
Despite missing the 2015 season due to injury, Gorham returned to appear in every possible match over her final three seasons, starting in all but two of those appearances. Gorham rounded out her strong career on The Hill with 10 goals, seven assists and 27 points while finishing just outside the top 10 in school history with 103 shots. Gorham also wrote her name in WKU's record book by scoring the 500th goal in program history against UT Martin on Aug. 19, 2016.
"I am so excited to continue my soccer career overseas," Gorham said. "This has always been my dream and I am so ready for the challenge. Soccer has always been my safe haven and I cannot wait to start the season with Lidköpings FK and all of my new teammates."
Lidköpings FK placed third in the Elitettan during the 2018 campaign, finishing just six points behind league winner Kungsbacka while scoring 73 goals to lead the league. Lidköpings FK is located in the city of Lidköping near Sweden's west coast, approximately four hours west of Stockholm.