WKU Men's Basketball: Hilltoppers come up short again in C-USA Tournament Championship, fall to ODU 62-56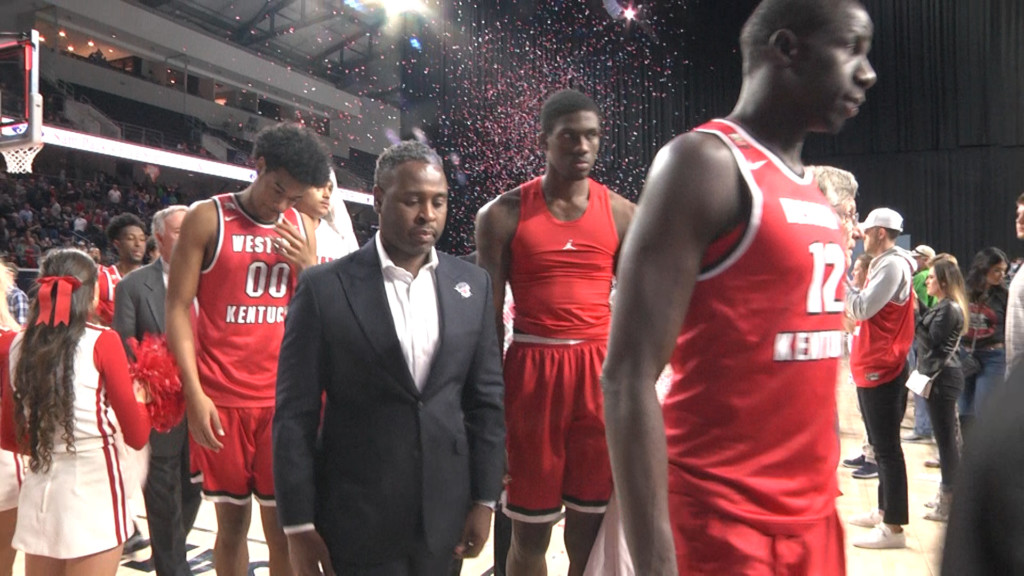 FRISCO, Texas — WKU Hilltopper Basketball struggled offensively despite a stout defensive showing Saturday night, falling 62-56 to top-seeded Old Dominion in the Conference USA Championship game at Ford Center at The Star.
The Hilltoppers (20-14) returned to the title game for the second straight year, but they shot 34.6 percent from the field as ODU denied them their 24th NCAA Tournament appearance in program history.
WKU netted just 4 of 18 3-pointers and 16 of 24 free throws, while ODU guard Xavier Green – the tournament MVP – stepped up late to make big shots. Green finished with 16 points, including 14 in the last 10:40 of the game.
"They've been the best team all year – that's why they won the league," WKU head coach Rick Stansbury said. "They found a way to do it today. Neither team was very good offensively, and I thought the difference in the game was Green. … When you make some 3s late in the game, sometimes it's tough to overcome."
Sophomore guards Taveion Hollingsworth and Josh Anderson were named to the all-tournament team for WKU.
Hollingsworth finished with nine points, while Anderson had 11 points, six rebounds, four steals and three assists.
Freshman center Charles Bassey tallied 12 points and 10 rebounds for his 17th double-double.
Redshirt junior guard/forward Jared Savage scored 10 points, and redshirt senior guard Lamonte Bearden had nine points, five rebounds and five assists.
"We've played them twice, and they play the same way," Bassey said. "They play tough. We have to bring our best game … but it wasn't enough."
The teams traded runs throughout the first half, and two free throws by Hollingsworth made it 22-21 WKU with 3:16 left in the frame.
ODU's B.J. Stith answered with a 3-pointer, and the Monarchs (26-8) took a 30-27 lead into halftime after a putback just before the buzzer by Hollingsworth.
WKU built a 37-34 lead with 11:03 left on a layup by sophomore forward Marek Nelson, but Green scored six straight points to start an 11-3 Old Dominion run.
Green's biggest shot came with 1:55 remaining, when he sank his final 3 in front of his team's bench as the shot clock waned to push the Monarch lead to 54-48.
Stith added 13 points for Old Dominion, and guard Ahmad Caver finished with 10 points and nine assists.
The Hilltoppers put together their 45th 20-win season in program history, with several signature wins including home victories over Wisconsin and Saint Mary's, a road win at Arkansas and a neutral-site triumph over West Virginia.
WKU also rebounded from a 1-3 start in conference play to earn the tournament's No. 2 seed, its highest finish since 2014.
"We had a lot of ups and downs this season," Savage said. "We overcome some adversity, all kinds of different adversity. I think we grew as a family in that locker room, and I'm just glad that those guys are my teammates."