WKU Men's Basketball: Bassey named Conference USA Freshman of the Week for 7th time
Third consecutive week Bassey has earned this honor.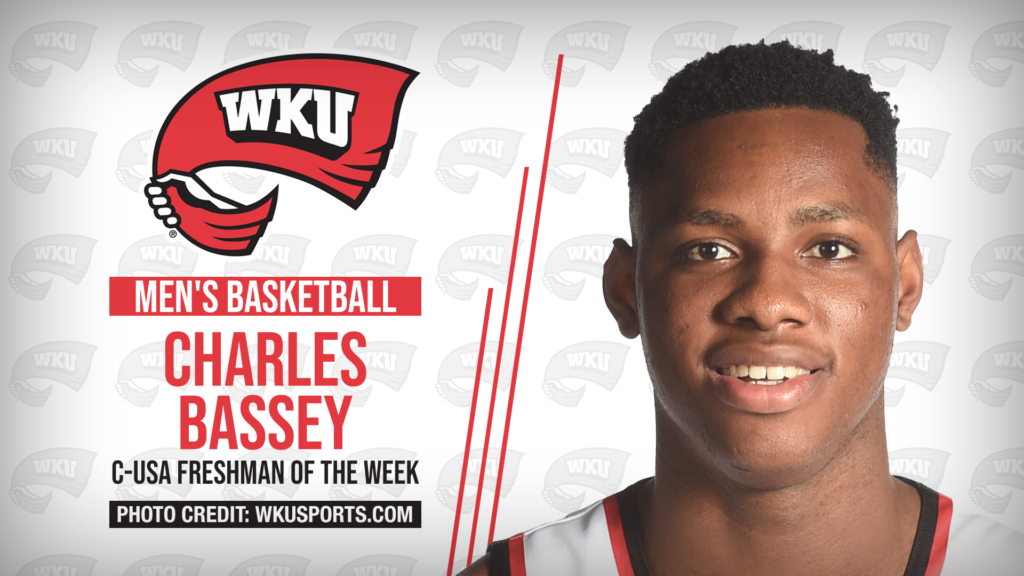 DALLAS, Texas — After averaging a double-double for the third straight week, WKU center Charles Bassey claimed his seventh Conference USA Men's Basketball Freshman of the Week award Monday.
This is the third straight weekly freshman accolade for the 6-foot-11, 245-pound native of Lagos, Nigeria.
Bassey averaged 14 points, 10.5 rebounds and 4.5 blocks per game in two road victories for WKU last week.
The freshman had 10 points, 14 rebounds and tied his career high with five blocks in Thursday's 92-85 double-overtime win at Rice. He played a career-high 39 minutes as he notched his Conference USA-leading 12th double-double.
On Saturday, Bassey led WKU in scoring with 18 points, along with seven rebounds and four blocks in 36 minutes in a hard-fought road victory at North Texas.
Across the week, he shot 52.6 percent from the field and netted 7 of 8 free throws, while averaging 37.5 minutes per contest. Bassey is still 1 of 2 freshmen in the country averaging a double-double.
Bassey's seven C-USA Freshman of the Week awards tie for the third-most in league history. Rice's Marcus Evans (10, 2016) and Memphis' Tyreke Evans (9, 2009) hold the top spots.