WKU Football: WKU FCA Establishes Mitchell Henry Leadership Award
The former WKU Tight End passed away in June 2017 at the age of 24 due to leukemia.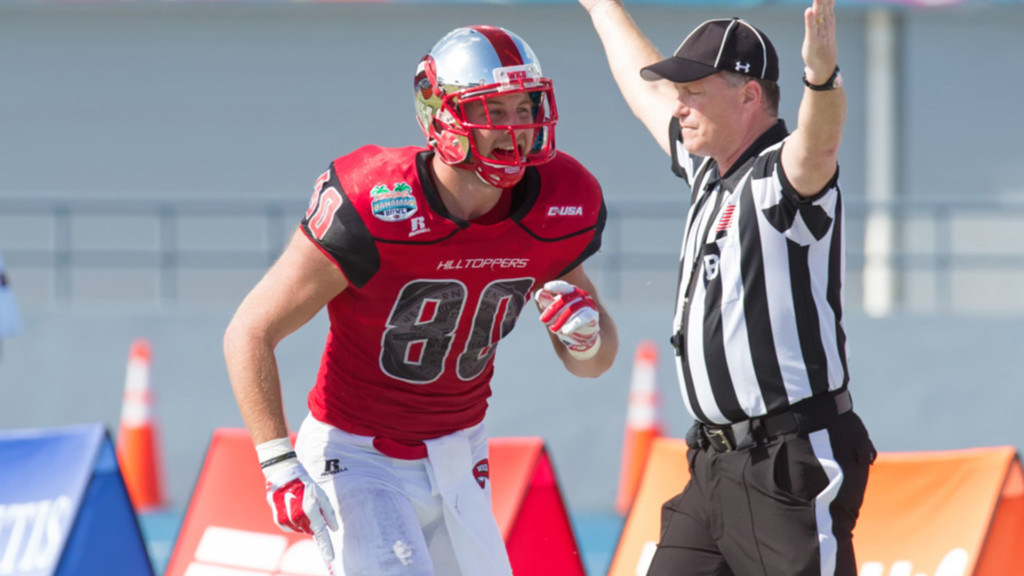 BOWLING GREEN, Ky. – In remembrance of the life and legacy of former WKU tight end Mitchell Henry, the WKU chapter of the Fellowship of Christian Athletes (FCA) has established the "Mitchell Henry Leadership Award," in conjunction with Henry's family and the Mitchell Henry Foundation.
Henry, a star at Elizabethtown High School during his prep days, was a standout tight end for the Hilltoppers from 2011-14 and an integral part of WKU's rise up the FBS ranks. During Henry's time on The Hill, the Hilltoppers secured their first winning season at the FBS level (2011), first FBS bowl appearance (2012) and first FBS bowl win (2014). He passed away following a courageous battle with leukemia on June 30, 2017.
"Mitchell was never one to want to be in the spotlight," said Madison Henry, wife of the late Mitchell Henry. "But I personally believe sometimes the ones not in the spotlight shine brighter than the ones who are. I know he would be so honored to be recognized for his leadership as he led by incredible example. It was difficult going through three different head coaches with three different coaching types in his four years at Western Kentucky, but the one thing he constantly did was stay true to what he believed in and who he was even if one of them expected him to be different."
On the basis of character, work ethic, and leadership ability – three values Henry displayed and held dear – four WKU student-athletes, two football and two non-football, will be honored in the fall and spring for their commitment to those principles. Each spring, one of those four student-athletes will be awarded with scholarship monies at the Hilltopper Legacy Dinner. This year, the event will be held Sunday, April 14 inside E.A. Diddle Arena.
Two WKU student-athletes have already received the award: men's golfer Dawson McDaniel and softball's Kelsey McGuffin.
A mural has also been placed inside Houchens Industries-L.T. Smith Stadium where each award winner will be displayed.
"Mitchell's relationship with Christ and his legacy as a student-athlete were such huge parts of his life," said Wayne Dickens, WKU's FCA Director. "With the Mitchell Henry Leadership Award, we wanted to try and find a way to continue to tell the story of Mitchell's life as well as inspire a new generation of Hilltoppers to leave similar legacies here on The Hill and in their lives after their playing days are over."
"His mom always prayed, 'May the lights that shine on him never be brighter than the lights that shined in him.' And I believe that statement still remains true to this day," Madison Henry added. "In his last moments on this earth, I can promise it doesn't matter what NFL team you played for or how many touchdowns you made, the only thing that matters is that you are saved by the grace of God."
For his career, Henry tallied 1,094 yards on 78 catches with 12 touchdowns, enjoying his most productive season as a senior. A true ironman, Henry played in 47 games over his four-year career with 22 starts, including a career-best nine in his final campaign. Following his career on The Hill, Henry signed free agent deals with the Green Bay Packers, Denver Broncos, and Baltimore Ravens. Henry saw action in two NFL regular season games with the Broncos in 2015.
Apart from his playing career, Henry was praised for his commitment to the betterment of his fellow man and those around him.