Toys for Tots kicks off annual toy drive with Hand it to a Hero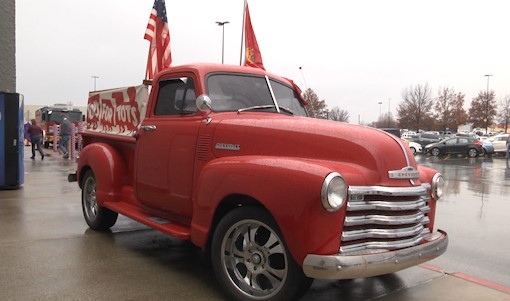 BOWLING GREEN, Ky. – Rainy weather didn't dampen holiday cheer for Toys for Tots donors Saturday afternoon. Despite a backdrop of clouds, rain and even thunder, volunteers were busy accepting toys for children in need.
According to Janel Doyle, the coordinator for the local Toys for Tots program, this is the 6th annual Hand It to a Hero program which was held at Walmart on Campbell Lane in Bowling Green.
The number of toy donations has increased every year but Doyle has also seen an increase in the need for toy donations in the nine years she has served as coordinator. And one of those heroes on hand, U.S. Marine Corps Staff Sergent Matthew Alred, said knowing the magic in a child's eyes of receiving toys on Christmas Morning makes it all worthwhile.
In addition to military personnel, donors could also directly hand donations to other heroes in the fire service, law enforcement and emergency medical services.
Toys will be accepted at donation boxes throughout Bowling Green and and they will also be accepted right up until Christmas Morning at any Bowling Green Fire Department.