South Warren Football receives national ranking trophy
Spartans honored by MaxPreps as one of 50 top high school football teams in the country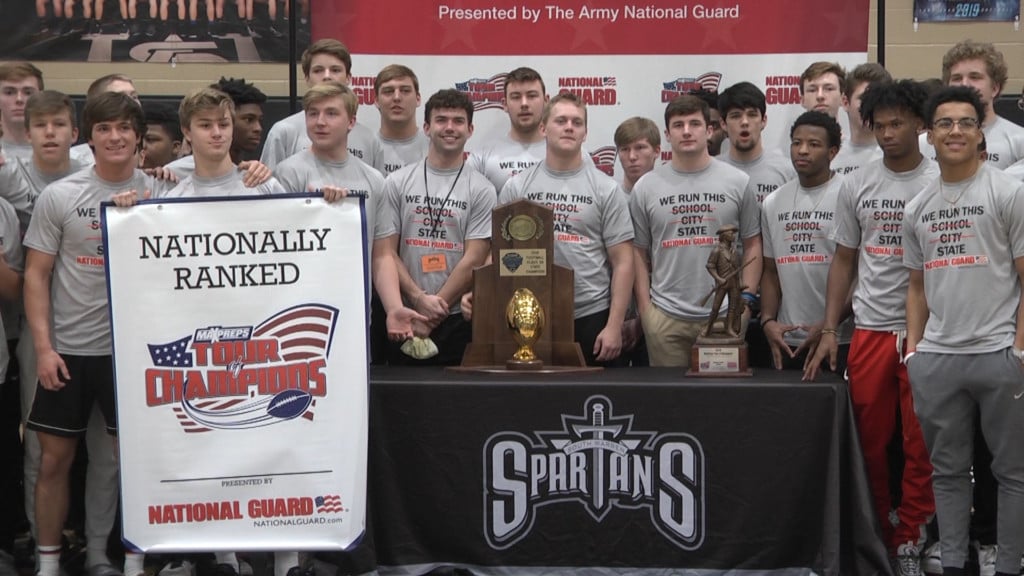 BOWLING GREEN, Ky. – The South Warren High School football team has finished No. 188 nationally for the 2018 season. The announcement was made by MaxPreps, the online high school sports leader and a CBSSports.com site.
"The MaxPreps Tour of Champions presented by the Army National Guard honors the very best high school teams in the nation. To qualify, you must be highly ranked nationally by MaxPreps; and you must also win a state championship. Those are tough qualifications considering there are nearly 17,000 teams competing in high school varsity football," said Andy Beal, president and founder of MaxPreps.
"Congratulations to the South Warren Spartans on their amazing achievement," he added. "MaxPreps and the Army National Guard are honored to recognize you for your hard work and amazing work on the field."
For the second time in four years, South Warren compiled a perfect 15-0 regular season. The Spartans capped off the campaign with the KHSAA Class 5A championship, holding off Covington Catholic 20-16 in the title game. South Warren is one of 50 football teams being honored on the MaxPreps Tour of Champions presented by the Army National Guard.
"This is a tremendous honor and a great accomplishment for our program," said South Warren head football coach Brandon Smith. "It's one that we won't ever forget."
Kentucky Army National Guard Staff Sergeant George Wallace presented Coach Smith and the team with the Army National Guard national ranking trophy Friday morning during a school assembly. The team also received a banner for their accomplishment.
"The Army National Guard embodies teamwork and a commitment to community and country. Just as your team joins together to defeat adversity and claim the victory, the Army National Guard stands in solidarity to protect our local communities and the United States of America as a whole," said Captain Charlton Grant. "On behalf of the Army National Guard, I am honored to recognize this nationally ranked championship team for their dedication, perseverance and teamwork."