One man shot, another man in custody in afternoon shooting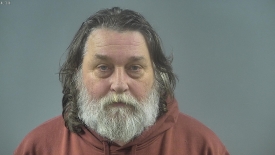 BOWLING GREEN, Ky. – One man was shot and another man has been taken into custody following the Tuesday afternoon shooting at 410 Plano Richpond Road.
The victim, Marvin Russell, 24, was taken in a private car, driven by Bryanna Green, to Bowling Green Fire Department Station 6 off of Scottsville Road where emergency medical providers met the vehicle before the man was flown to a Nashville trauma center, Warren County Sheriff Brett Hightower said.
Russell is in stable condition, he said.
Edward Wayne Bowden, 52, 401 Plano Richpond Road, was charged with first-degree assault and first-degree wanton endangerment in the incident, according to a release from Hightower.
Russell is Green's boyfriend. She said he sustained a gunshot wound in her front yard. She was driving him to the hospital when deputies made contact with them, according to a release from Hightower.
The two men got into an argument when Bowden pulled out a handgun and shot Russell several times, according to the release.
At the time that the victim was being driven to get medical care, the suspect in the shooting called Kentucky State Police. Deputies met up with the suspect at his home in the 400 block of Plano Richpond Road and took him into custody, Hightower said.
The victim was visiting someone in the area when the shooting occurred.
"I do believe this is an isolated incident," Hightower said.
Bowden is accused of shooting Russell, and he is accused of opening fire on the car in which the man was riding away from the scene, according to his Hightower and Bowden's arrest citation.
Bowden is lodged in the Warren County Regional Jail. Warren District Judge John Brown set Bowden's bond at $100,000.
WCSO are in the 400 block of Plano Richpond Road investigating a Tuesday afternoon shooting. pic.twitter.com/oagXDZTyYd

— Debi Highland WNKY (@DebiHighland) February 11, 2020