NCM Motorsports Park has test day before Great Lakes Bourbon Barrel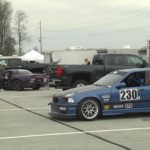 BOWLING GREEN, Ky.-Drivers tested out the track at the National Corvette Museum's Motorsports Park on Friday to get ready for a big race Saturday.
Several racing events will take place Saturday at NCM for the annual National Auto Sport Association Great Lakes Bourbon Barrel event.
The races are for drivers of all levels. The National Autosport's Association offers four levels of driving school curriculum.
For many of the drivers it will be their first time on NCM's track.
"We're still a new race track and for a lot of these guys they haven't seen the racetrack before. So, getting laps before hand just helps familiarize yourself with where you're going and what you're doing," said Matt Busby, track operations manager at NCM Motorpark.
The Bourbon Barrel event starts 8 a.m. Saturday and ends at 6 p.m. Sunday.