Metcalfe Co. seniors participate in Educators Rising National Signing Day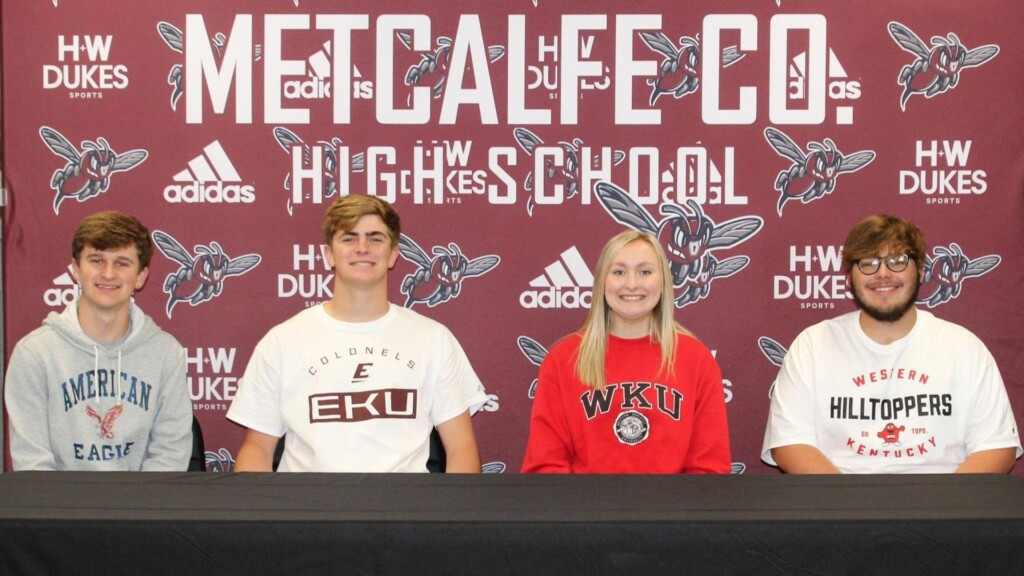 EDMONTON, Ky. – Today, four Metcalfe County High School seniors participated in the 2023 Educators Rising National Signing Day.
Metcalfe County Schools says the event was held for all upcoming graduates who have shown commitment to a postsecondary degree in education.
The district says Educators Rising is a national Career and Technical Student Organization. This is the first year for the chapter at Metcalfe County High School.
Jax Allen will attend Eastern Kentucky University and focus his education on social studies and history, according to Metcalfe County Schools.
"This program is great because it gives students like us who want to teach, especially back here in Metcalfe, the opportunity to start completing education classes early," Allen said.
Ada-Kathryn Bennett plans to attend Western Kentucky University and concentrate on agriculture education.
"I want to inspire others like my teachers have inspired me," Bennett said.
Aidan Grindle, also committed to WKU, intends to study music education.
"My current and past band directors lit a spark in me to want to give back to my community. They showed up for kids who needed them when sometimes no one else could," Grindle said.
Logan Phelps will attend WKU to pursue his career in elementary education.
"I have had so many great teachers motivate me to want to come back here. Our teacher and sponsor, Mrs. Brandi Ethridge, has done a great job guiding us down this path," Phelps said.
Educators Rising is partly funded by the school's Project Early Entry Plan grant. The PEEP grant is designed to increase early interest in the teaching profession and improve the pipeline of local teaching opportunities for students.