Magistrates pleased with current ambulance service in Warren County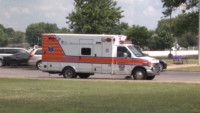 BOWLING GREEN, Ky.- The Warren Fiscal Court is backing the county's only ambulance service provider.
Magistrates voted unanimously Friday morning on a resolution in support of the county's ambulance service.
An emergency regulation was issued in September by the Kentucky Cabinet for Health and Family Services, citing a public health crisis in Warren County due to a lack of ambulance service.
Med Center Health is the sole owner and operator of ambulance service throughout Warren County.
Warren County Judge-Executive Michael Buchanon believes what's being offered now is more than acceptable.
"Contrary to the earlier executive order that came out of the state, there is no healthcare crisis in Warren County," said Buchanan. "We have a healthcare situation in Warren County that every other county in Kentucky is envious of and would be delighted to have."
Tri-Star Greenview Hospital in Bowling Green recently announced that it had submitted an application to begin an ambulance service.