Inaugural recipient for Toppers Assist Scholarship announced
Courtesy WKU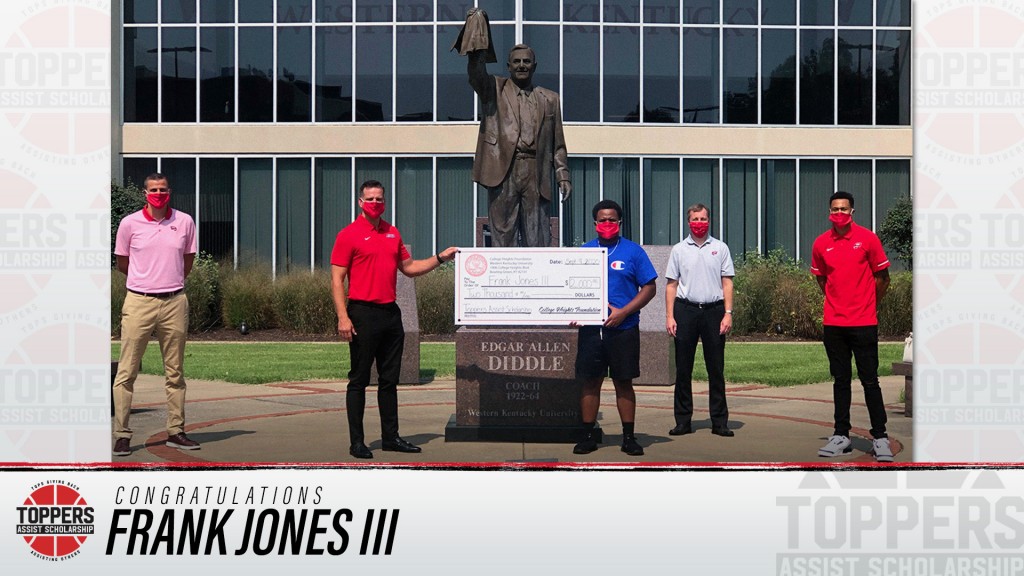 BOWLING GREEN, Ky. — Frank Jones III, a WKU freshman from Bowling Green, was named the inaugural recipient of the newly established Toppers Assist Scholarship. Jones, a 2020 graduate of Bowling Green High School, received a $2,000 scholarship for the 2020-2021 academic year. He is pursuing a degree in Sports Management.
Jones was raised in a single-parent household by his mother, who inspired him to pursue higher education as she worked her way through college on her own. A highly recommended student by the guidance counselor at Bowling Green High School, Jones said he didn't initially know if he would be able to attend WKU because of the cost and worry about debt.
"Being a recipient of this scholarship from the College Heights Foundation means a lot to me because the main stress my family and I had was how to pay for college," said Jones. "We are very thankful for the blessing received. Go Tops!"
The Toppers Assist Scholarship was established in July 2020 by four former Hilltopper Basketball student-athletes who united to honor their alma mater and provide opportunities for underrepresented groups at WKU. These former student-athletes want to help WKU achieve its educational goal of promoting a diverse environment by creating a scholarship to support students who may not be able to afford college without financial assistance. Since the announcement of the Toppers Assist Scholarship, eight other student-athletes have joined to support the scholarship, and more partnership announcements are expected.
The scholarship was presented to Frank Jones III by Anthony Winchester, one of the four former student-athletes who established the scholarship; Donald Smith, President of the College Heights Foundation that administers the scholarship; and AJ Slaughter and Matt Maresca, two former student-athletes who have supported the scholarship fund.
Learn more here.